ALUMINIUM HIYA HIYA CROCHET HOOKS
HIYA HIYA
ALUMINIUM HIYA HIYA CROCHET HOOKS
Hiya Hiya crochet hooks - The ultimate crochet companionIntroducing Hiya Hiya Crochet Hooks, the perfect...
Sorry we're out of stock!
But we can let you know once the product is avaliable again, just enter your name and email below.
Tell a friend
Complete the form below and we'll send details of this product to your friend
Hiya Hiya crochet hooks - The ultimate crochet companion
Introducing Hiya Hiya Crochet Hooks, the perfect tool for all your crochet projects! 
Made with high-quality aluminium, these hooks are durable, lightweight and comfortable to use. 
Their smooth finish ensures a snag-free experience, while the precisely-shaped hooks provide excellent grip, allowing you to work with ease.
Hiya Hiya Crochet Hooks are available in a variety of sizes, making it easy to choose the perfect hook for your project. 
Whether you're working with thick or thin yarns, these hooks will provide the control you need for precise, beautiful stitches every time.
Whether you're a beginner or an experienced crocheter, these hooks are an essential tool for all your crochet needs.
So why wait? Get your Hiya Hiya Crochet Hooks today and experience the difference for yourself! 
Key characteristics:
Aluminium HiyaHiya crochet hooks are available in size 2mm all the way to 10mm
Smooth and lightweight aluminium
Flattened "thumb pad" for a comfortable feel and handle whilst crocheting
The slightly pointed hook makes crocheting quick and easy.
Check out this chart converting metric hook sizes to US hook sizes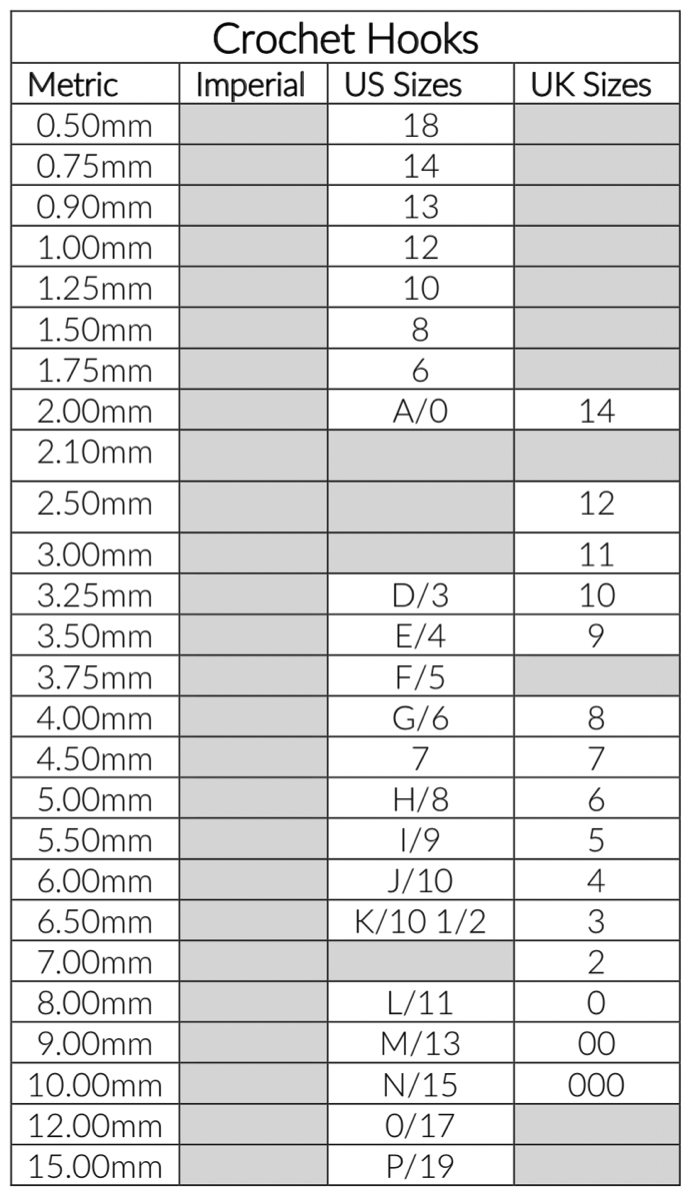 Wow! I'm shocked. I have been using Tulip expensive hooks and swore I would never change. People were raving about these so bought 3 to try. Did take me an hour or so to get used to them but once I had, I couldn't believe how impressed I was. Great hooks. Everyone needs them!!
I wanted to try these hooks after the good comments about them in the Facebook group. They are so lovely to use. I was surprised as I normally used a hook with a thicker handle, but these are so comfortable to use as they glide through the yarn so easily
I just love these hooks! They just glide through any fiber yarn.
I just love these Hiya-Hiya hooks! They are so easy to work with and glide so beautiful through the stitches! So perfect for hands and wrists! I like the storage bag for each so they can't get lost!
Good Length, easy on the hand, would recommend.
I love my HiyaHiya hooks. I had never heard of them until a couple of years ago. I love how they feel in my hand. When they say that hooks make a difference believe me they do. I have been crocheting for over 40 years and I finally found the prefect hooks.
Hiyahiya hooks are a joy to work with. They're very easy on hands and wrists and glide beautifully thru your work. Also the lovely bright colours are funky.
After ordering a set of these hooks my crocheting has been so much easier and I can work for much longer. I'm not sure what the difference is but what ever it is it made a huge difference to me.
I really love the hiya hiya hooks. the hooks do not hurt my wrist or tired me out. I use then all the time
Used ergonomic hooks (hand problems.) Decided to put my trust in Anya's knowledge of Hiya Hiya hooks been easier to use and gentle on hand strain. So I bought a set from her Web shop. Was so impressed and now cannot cope using anything other. Service and delivery was excellent.
I'm usually not a fan of metal crochet hooks, but decided to try these! I'm not sure what is different about them but their design is different and ergonomic to the hand. It is a dream to crochet with these hooks. I highly recommend you try them.
So easy to work with. They are definitely my go-to hooks. Highly recommended!
Leave a review