AUTUMN WALK CAL INFORMATION
Let me take you by the hand, and together we will go on an inspiring…
Autumn Walk



Introduction
There is something magical about going for a walk in the Autumn. I used to love going for my walks with my Grandpa Frans or Pepe as I called him.
Seeing the leaves on the trees change colours and falling on the forest floor, picking up all the little treasures the woods create: acorns, leaves, pine cones, chestnuts and mushrooms.
I truly love the autumn and even now I really enjoy going for an Autumn Walk.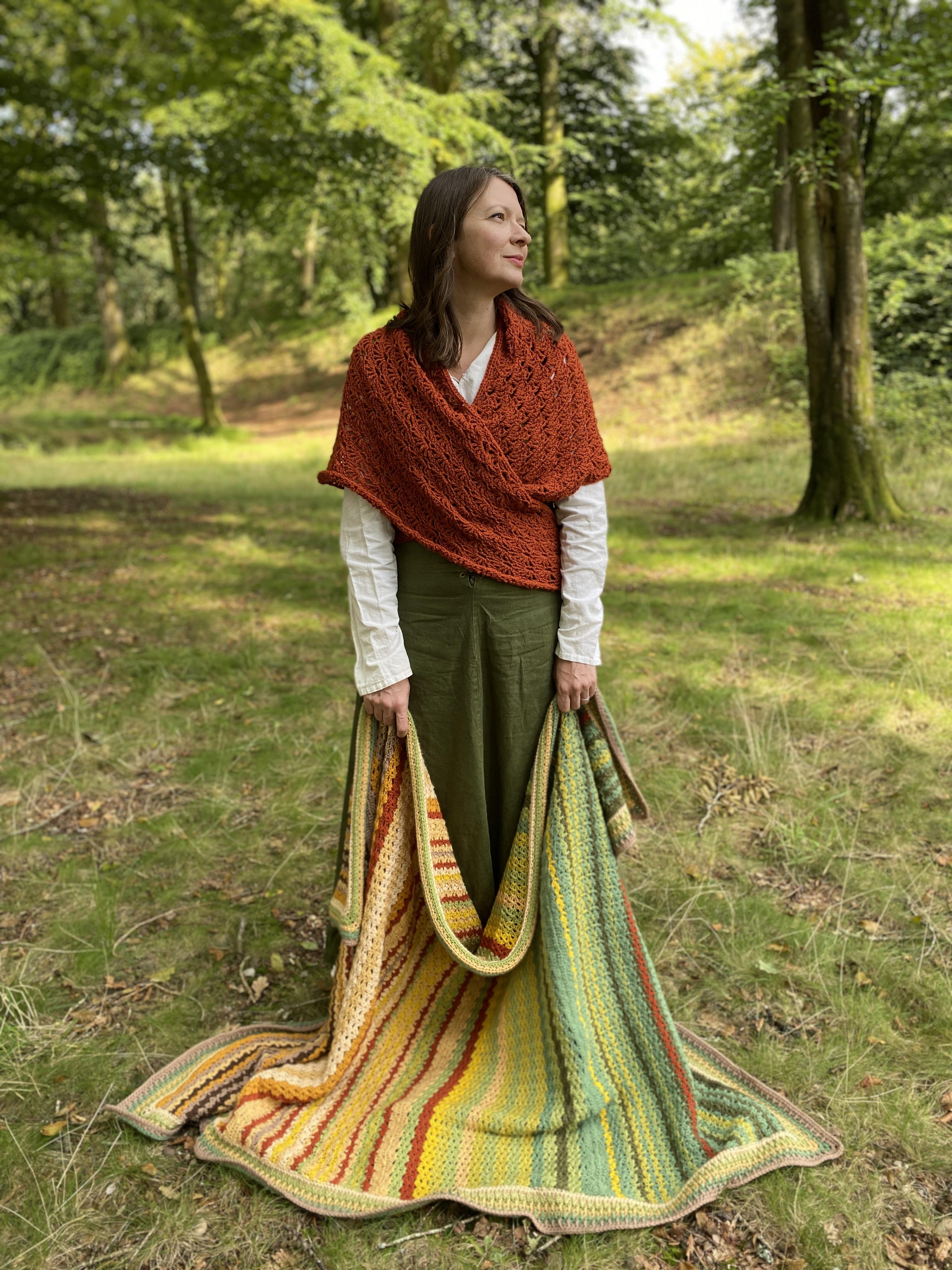 So let me take you by the hand and join me for a nostalgic walk in the woods, a crochet blanket full of memories from those countless walks in between the trees, feeling the fallen leaves crackle underneath my boots, seeing the pine trees and hearing the cones drop to the forest floor, spotting toadstools and fungi, and simply enjoying the colours of autumn…We might even spot a fox…
I want to try and recreate our walks for you in a blanket, with some lovely mellow autumnal colours which, in my imagination, represent the lovely things we found on our walks.
When do we start?
We will start on the date that was my Grandpa's birthday: 14 October. The first video will be released at 6 pm on that Wednesday with weekly videos to follow.
There will be extra little videos on Fridays which will go with the CAL (surprise!).
How many weeks will we work on this CAL?
There will be 6 weekly videos.
What size blanket are we making?
We are making a single bed size blanket.
What do you need?
his blanket will be using very particular colours to convey the story I am trying to tell.
There is also some texture that will be created, so it could possibly work in one colour, but I have the 'Autumn' theme for this blanket in mind, using autumnal colours.
List of colours
Stylecraft Special DK Yarn
You will need 1 ball each of
Gold
Khaki
Copper
Lime
Walnut
You will need 2 balls each of
Mocha
Stone
Camel
Meadow
Cypress
Total: 15 balls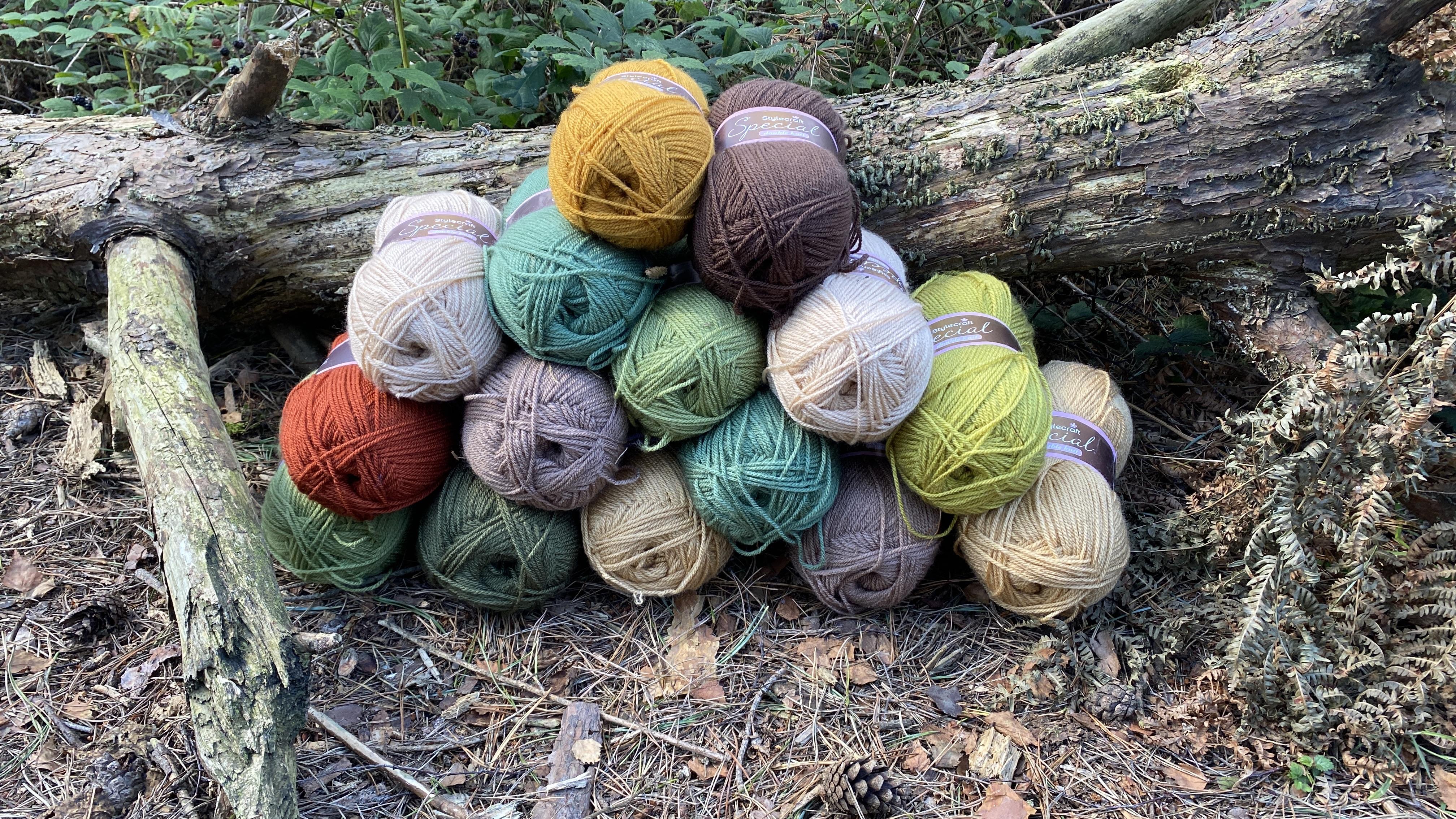 Hooks
You will need the hook you normally use for this yarn. I used a 3.5.
Where do you find the patterns?
The pattern will be published on my blog on my new website www.opheliatalkscrochet.com.
YOU WILL NEED TO GO THERE FOR THE COLOUR ORDER. Every row or every other row will have a different colour and you will need to find out the order from the blog.
There will be weekly posts with the new stitch and the new colour order.
The videos on YouTube will explain the stitches for you and will indeed tell you what to do but it is too hard to give you the colour order there, so that is why I publish it on the blog.
The pattern will be on the blog for free and the videos will be free too.
Will there be a written pattern for sale?
After the CAL ends on YouTube, there will be a nicely embellished written pattern for sale on my webshop and on Ravelry.
It's not only a great way to support me but it will give you the colour order without having to go to the blog. And it will be a keepsake for those of you who collect patterns.
Is there any help available?
Any progress or any questions you may have can be posted in the Facebook Group 'Ophelia Talks Crochet'.
Go and join the group now if you haven't already. (Make sure you answer the three questions before you will be allowed to join the group.) We look forward to welcoming you there.
The testers are in the group and any members who have already done the part you are stuck on, and of course me, will be there to answer your questions.
Is this CAL beginner friendly?
The blankets I design offer a level of learning and a level of challenge and at the same time, I hope to be able to give you some blissful carefree crochet time.
And yes, beginners, intermediate and advanced, everyone should find they can do this CAL.
KEY (American terminology)
CH chain
DC double crochet
FSC foundation single crochet
HDC half double crochet
SC single crochet
sk skip
SK slipknot
st stitch
STSC the letters ST in front of a stitch stand for 'standing' stitch where you start with the SK around your hook
FPDC front post double crochet
Please note
CH1 as a turning CH does not count as a stitch, so the first SC is done in the same st as the turning CH1 is coming out of.
CH2 or CH3 as a turning CH does count as a stitch, so the first stitch is done in the next stitch after the one the CH2 or CH3 is coming out of or as per instructions of course.
You will not use every colour every week.
To change colours, undo the last pull through of the very last stitch of the row and redo it in the new colour.
(Don't forget, you are changing colours nearly every row, I apologise for the ends now, that gets it over and done with, haha)
Please make sure you consult the table for the colour for every row!
I can't wait for 14 October to come around so we can go on that walk together.
Anja xxx