Harlequin CAL Blanket 2022 Information
Welcome to the Harlequin Crochet A Long information
This springtime I wanted to shake up a bit what we usually do during a CAL and I decided to go for a set of a play blanket and a cushion to go with it. The play blanket will be 110 x 110 cm/ 43 x 43 inches and the cushion is meant for a filling cushion of 50 x 50 cm/ 20 x 20 inches.
The play blanket will be finished with a striking border as well as the cushions to ensure it all coordinates nicely. We are using a new technique where we play with colours and we will be using two colours at the same time.
We will create an intricate pattern of diamonds and because of the technique, this blanket will be a bit thicker and denser than what we are used to. It will make a beautiful set to give away as a present or to display on your sofa.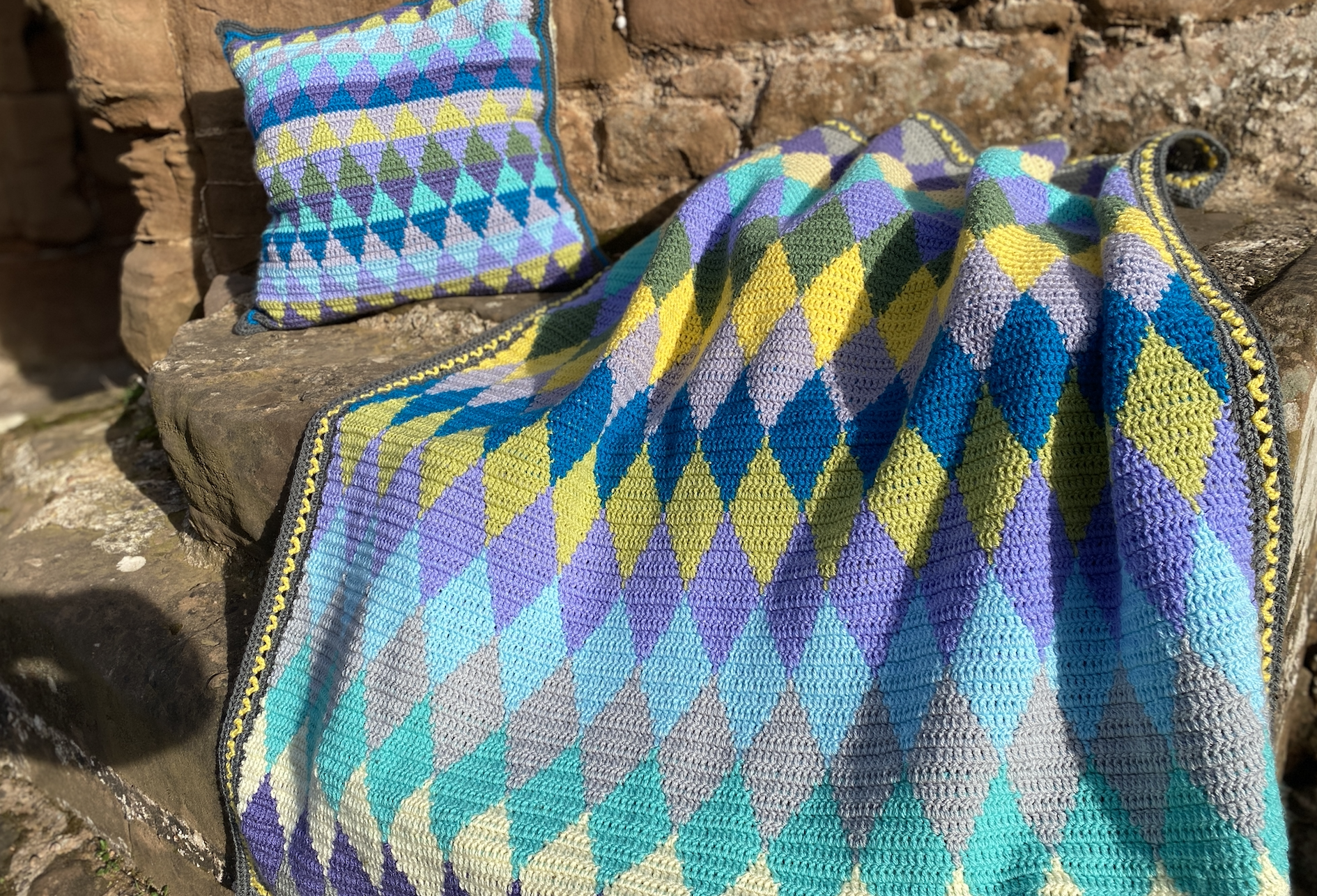 What do you need
The Harlequin CAL Yarn Pack consists of 15 balls of Stylecraft Special DK. The yarn is a double knitting thickness (3 weight). You will need the usual hook you use for this yarn, I used a 3.5. You will also need the usual tools like stitch markers, scissors and darning needle.
For the cushion you will need a cushion inner of 50x50cm / 20 x 20 inches (I got mine at IKEA). But feel free to use whatever filler cushion you can get hold of or even re-covering a cushion you already have.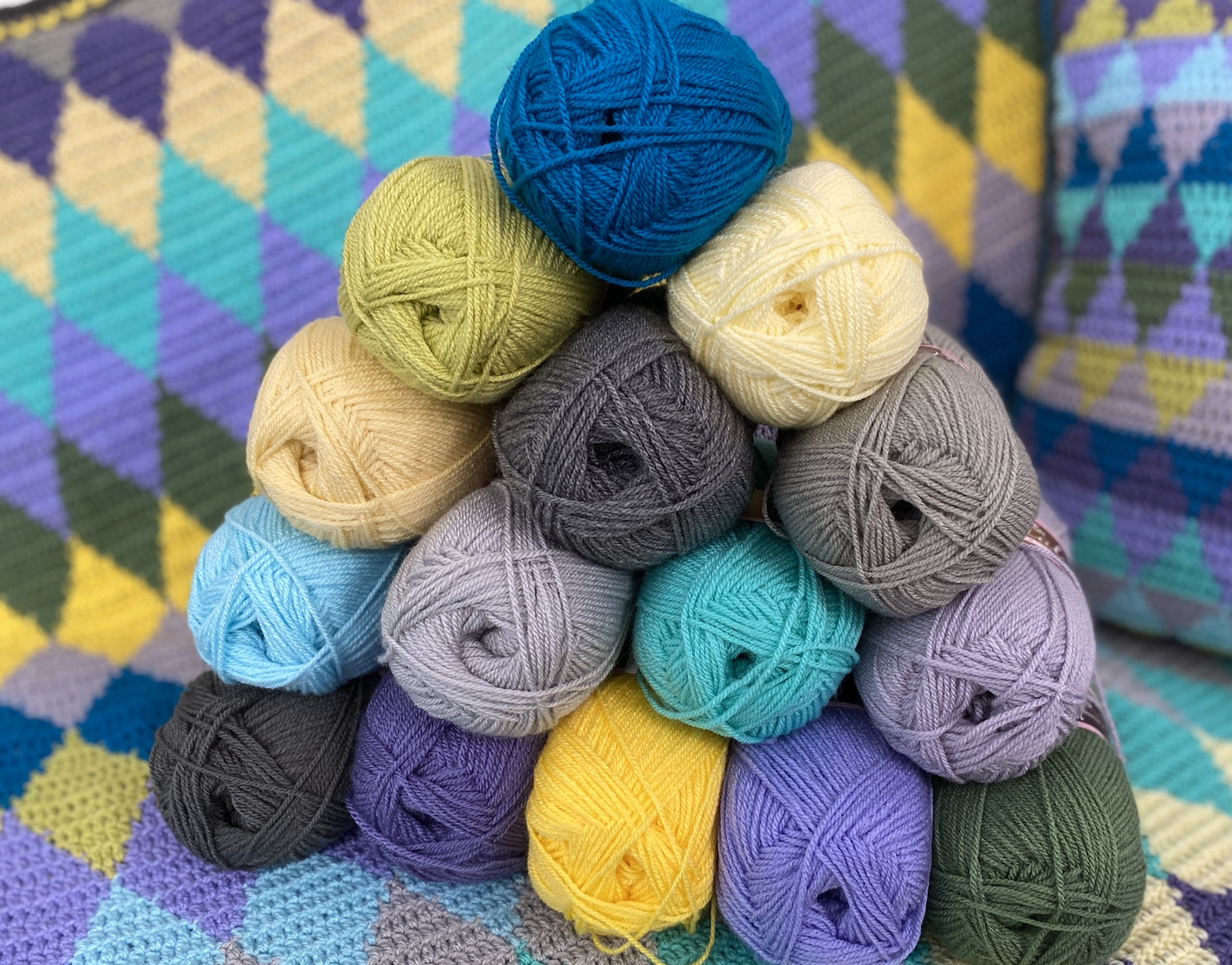 When does the CAL start
The CAL will start on 15 April, when the first video is published. There will be lots of info on the technique in this video so watch it carefully before you start your big project. We will make a sampler for the colours in the videos (instructions in the second part of the video).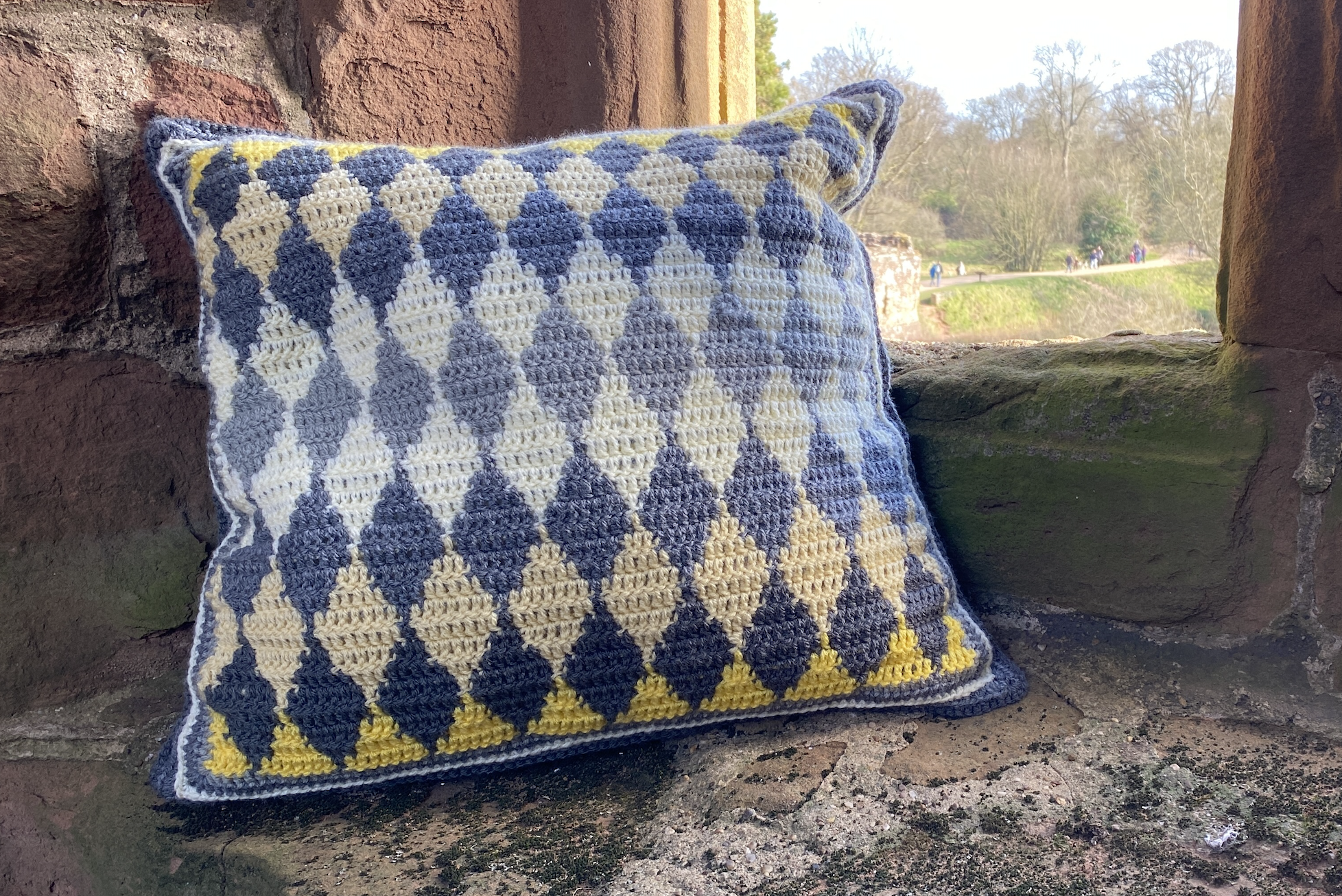 The videos will come out weekly after that and you will be able to go to the blog to find the written pattern and the list of colours. The cushion will come out in Week 6 on the Wednesday and Friday. The CAL will last 6 weeks with a shawl added to it during the 7th week.
I have designed a shawl to go with this CAL
made with two balls of SSDK and I used Empire. (Sneak peek in Information video) but feel free to use any colour you want.
Crochet-A-Long playlist
Videos will be in the playlist Harlequin CAL 2022 for future reference and the blogposts will stay online. There will be a nicely embellished pattern for you to purchase as a keepsake or for future reference after the CAL has finished (once the last video is live).
I hope you will join me on this journey and that you are looking forward to learning a new technique. And there is no need to worry, if you can do a DC you can make this CAL.
Happy crocheting,
Anja x