Jewels Of The Nile Crochet-A-Long WEEK 5
Jewels Of The Nile: Aswan
This is our last stop on the River Nile and also the last part of the body of our blanket. Aswan, located in southern Egypt, is a city steeped in antiquity and brimming with cultural significance. Positioned along the banks of the River Nile, it serves as a strategic gateway to Africa and has been a commercial and cultural hub since ancient times.
The city's historical landmarks are numerous, with the Unfinished Obelisk, the Aswan Dam, and the Temple of Isis on Philae Island being notable attractions. Aswan is also renowned for its unique Nubian culture, visible in the colorful houses and distinctive music and dance.
The city's tranquil atmosphere is a contrast to the bustle of larger Egyptian cities, making it a delightful place to witness the striking sunsets over the Nile and savor its gentle, timeless rhythm.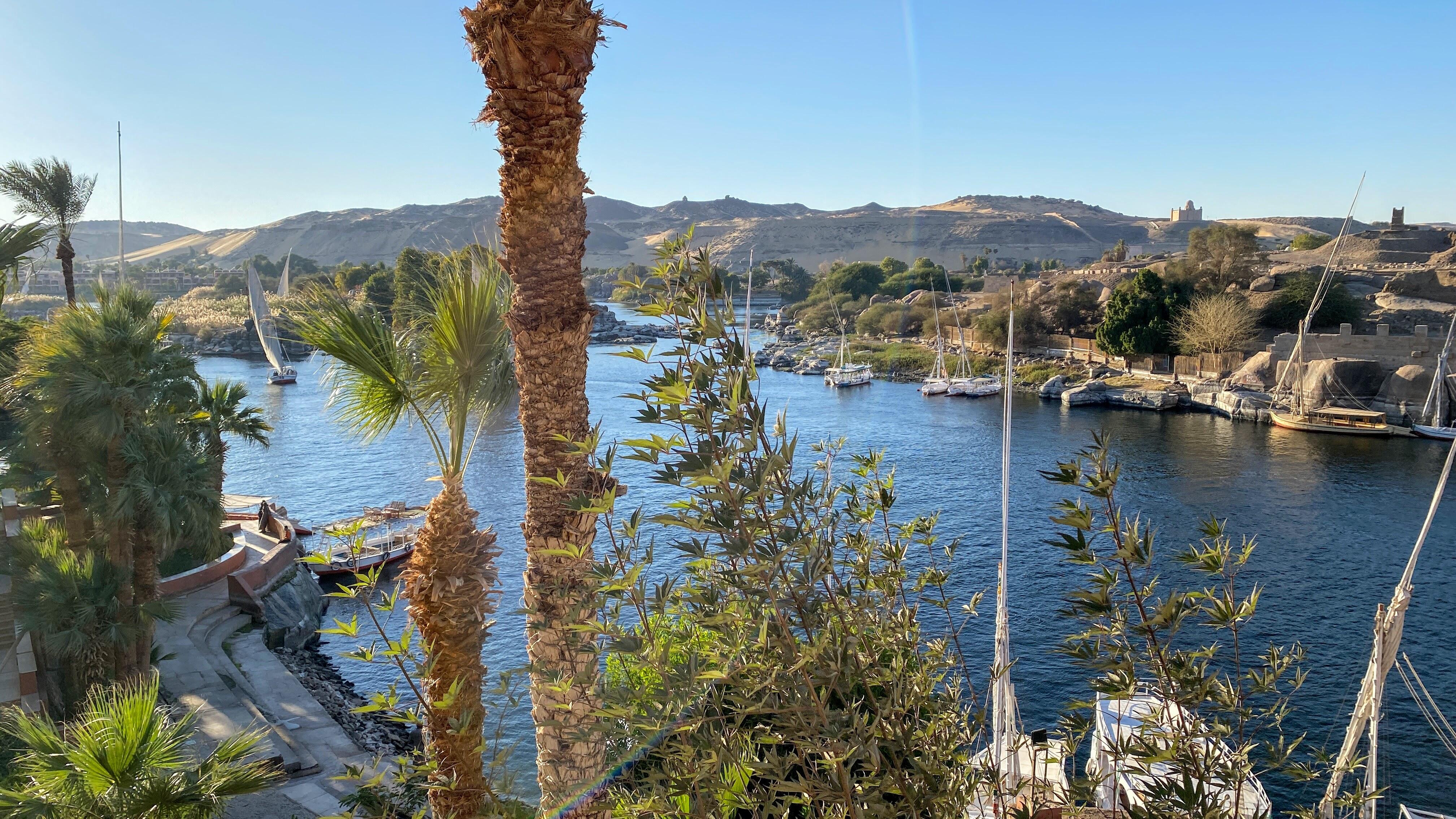 Famous view over the River Nile in Aswan. A view like Agatha Christie would have experienced it. Photo taken from the Old Cataract hotel. Mausoleum of Aga Khan III in the background
Week 5 Aswan
Name of the stitch: Ankh
Multiple: 6
Hook size: keep using your bigger hook
Aswan X
CH1, turn, 1DC in first st, *4DC around the next loop*, repeat *-* 8 times, *5DC around the next loop*, repeat *-* 26 times then, *4DC around the next loop*, repeat *-* 7 times, 1DC on top of the last st. (192 DC)
Aswan Y
CH1, turn, 1DC,1CH,1DC in first st, *sk2, 1DC in the 3rd st, sk 2, 1DC 2CH 1DC in the 3rd st*, repeat *-* to end, sk 2, 1DC in 3rd st, sk 1, 1DC 1CH 1DC on top of last st. (31 V-stitches and two half V-stitches)
Aswan 1
CH1, turn, 1DC on the first st, 2DC in the first CH1SP, *5DC around next CH2SP*, repeat *-* to end, 2DC into last CH1SP, 1DC on top of the last st (31 shells and 2 half shells)
Aswan 2
CH1, turn, 1DC,1CH,1DC in first st, *sk2, 1DC in between the shells, sk 2, 1DC 2CH 1DC in the 3rd st of shell*, repeat *-* to end, 1DC between the shells, 1DC 1CH 1DC on top of last st. (31 V-stitches and two half V-stitches)
Check the colour table below to find out which colour you are using and which stitch row you are doing for each of the 29 rows of this week. (122 to 150)
To finish the blanket
Row 151 CH1, turn, 1DC in the first 5 st, then *2HDC on top of the middle DC of the shell, 1DC in the next 4 sts*, repeat *-* to end, then 2HDC on top of the middle DC of the shell, 1 DC in last 5 st. (192)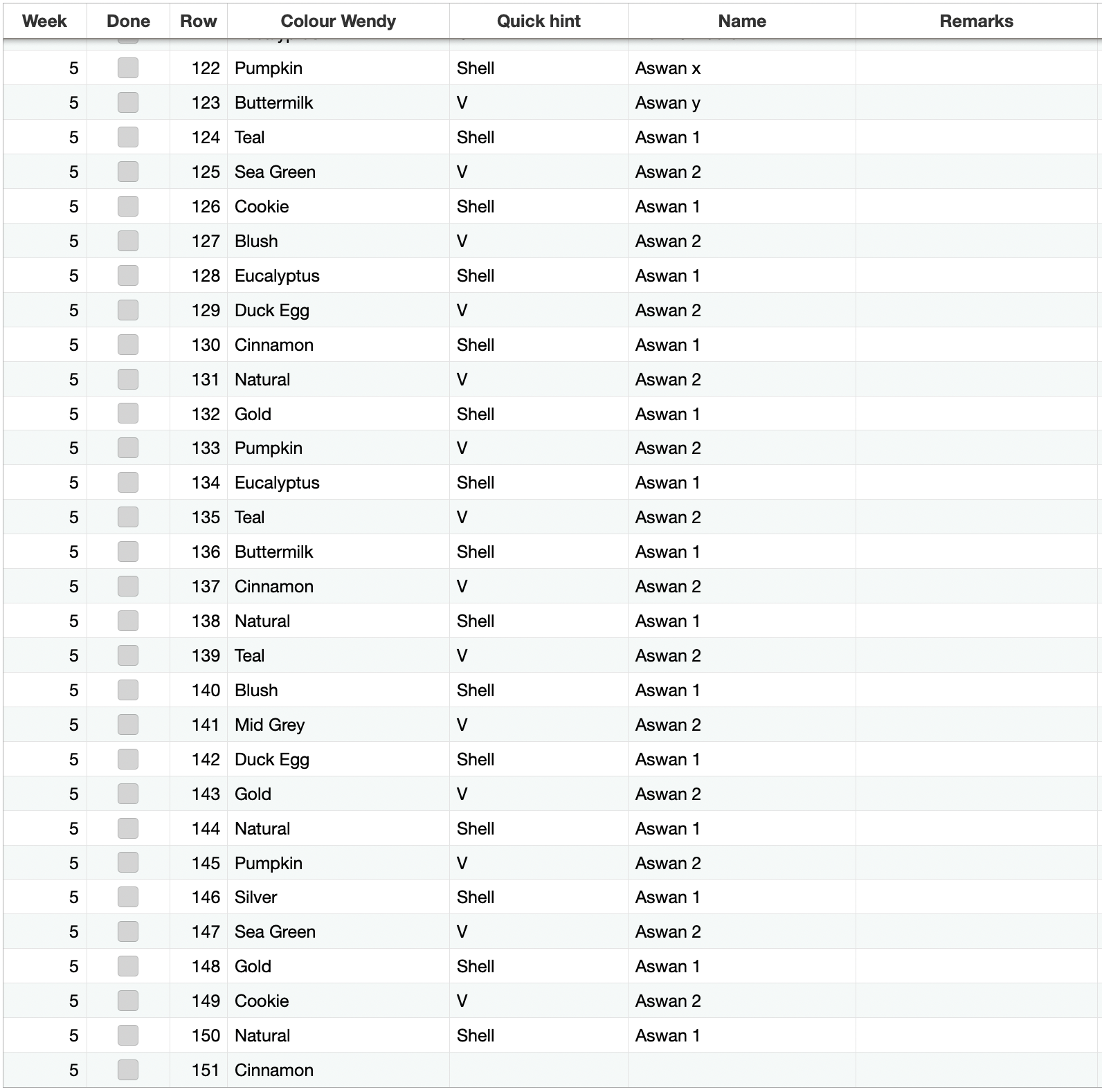 Happy Crocheting,
Anja x
Key
CH Chain
SC Single Crochet
HDC Half Double Crochet
DC Double crochet
(XX) number of stitches you should have
sk skip
CHSP chainspace
Shell 5DC around the same CHSP