Mystery CAL 2021 Week 2: Rows Of Flowers
Week 2 Rows of flowers
Introduction
Working on the large tile we made last week, we are going to be adding rounds of Dainty Clusters to it. A play with the colours makes this week all the more interesting.
Pattern
Using the large square we made in Week 1
Round 1 SK, YO, insert into a corner CHSP, and make 2DC 2CH 2DC, then *sk 2 st, and place a cluster of 2DCs in between the DCs of the row below.* repeat *-* 5 times in total, then sk 3 st and place 2DCs into the CHSP, place 2DCs in the next CHSP, then repeat from the first * to end of side and do a corner of 2DC 2CH 2DC. Work the four sides like this. When you meet the first corner, SS and fasten off the yarn. (You should have 112 clusters in this round/28 per side)
Round 2 - 19 SK, YO, inserting in between two clusters from round 1, start placing clusters of 2DCs in between the clusters, placing 2DC 2CH 2DC in the corner CHSPs. When you meet the first cluster, SS into the second DC of that cluster and fasten off the yarn.
When you have done the last round you have 184 clusters/46 per side)
Remember to sew in your ends.
List of colours
Follow the order indicated in the table below.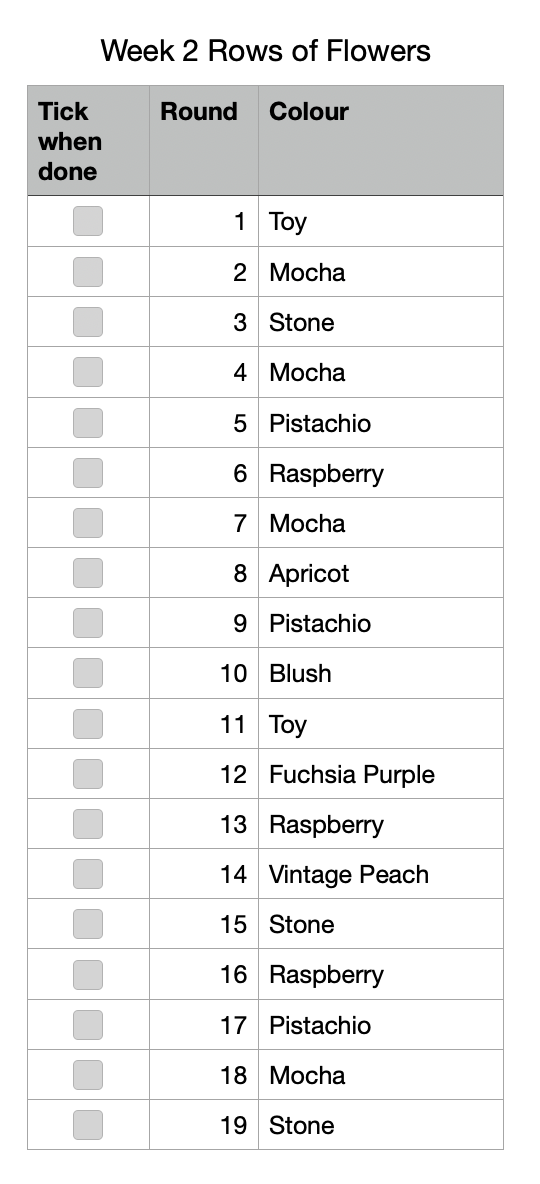 This week is a fairly simple week, enjoy getting immersed in the flower colours and the simplicity of the Dainty Cluster! Anja xxx
Key
SK SlipKnot
YO Yarn Over
CHSP CHain SPace
HDC Half Double Crochet
DC Double Crochet
CH Chain
sk skip
st stitch
SS SlipStitch
V at the top of a stitch there are two strands that look like a V
Dainty Cluster 2DCs in the same stitch