NETFLIX INSPIRED INTRO BLANKET - TUDUM BLANKET PART 1
Netflix Tudum Blanket
Those film production company intros can be real works of art, and every time I saw the Netflix one I thought to myself, there is a blanket in there somewhere, they already did all the hard work for me placing the colours.
It is made up of an N coming towards you disintegrating into coloured lines.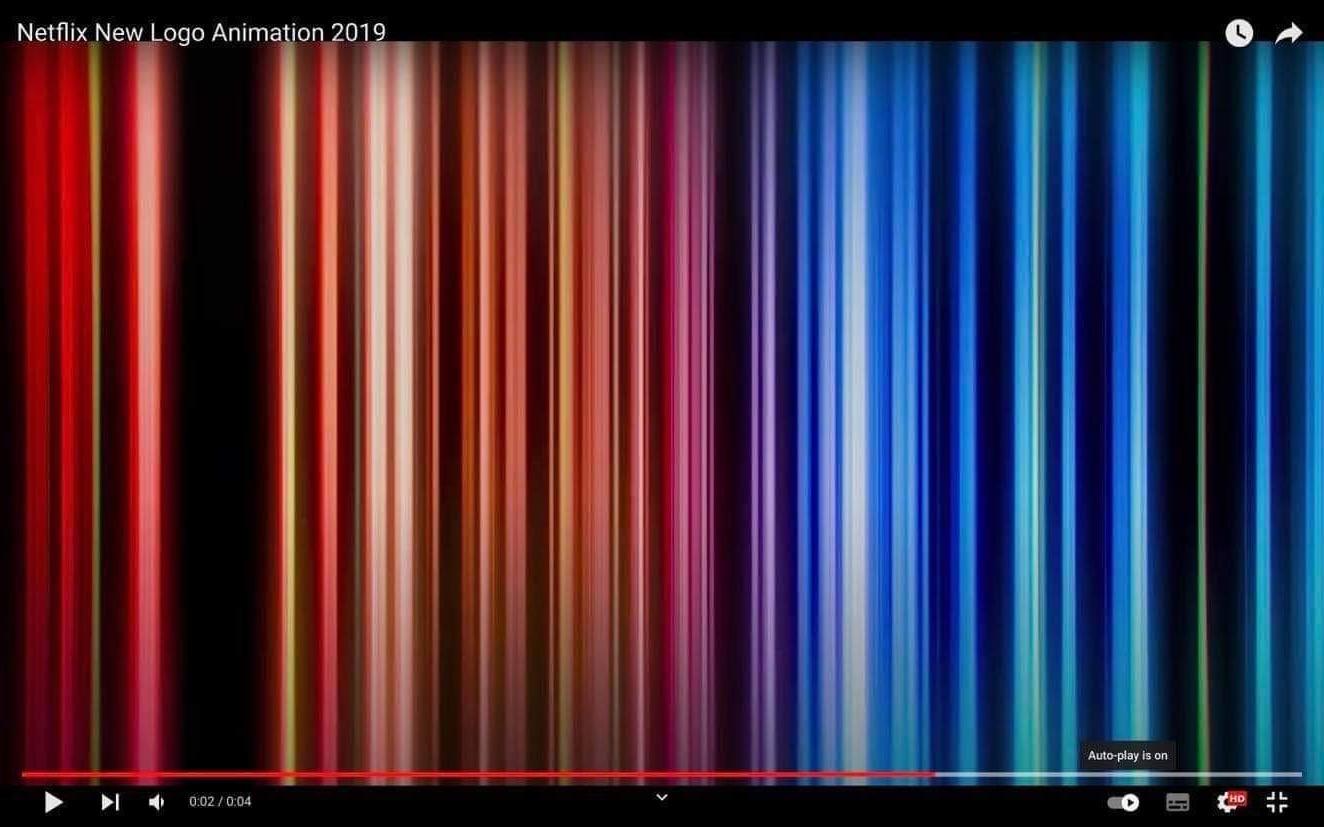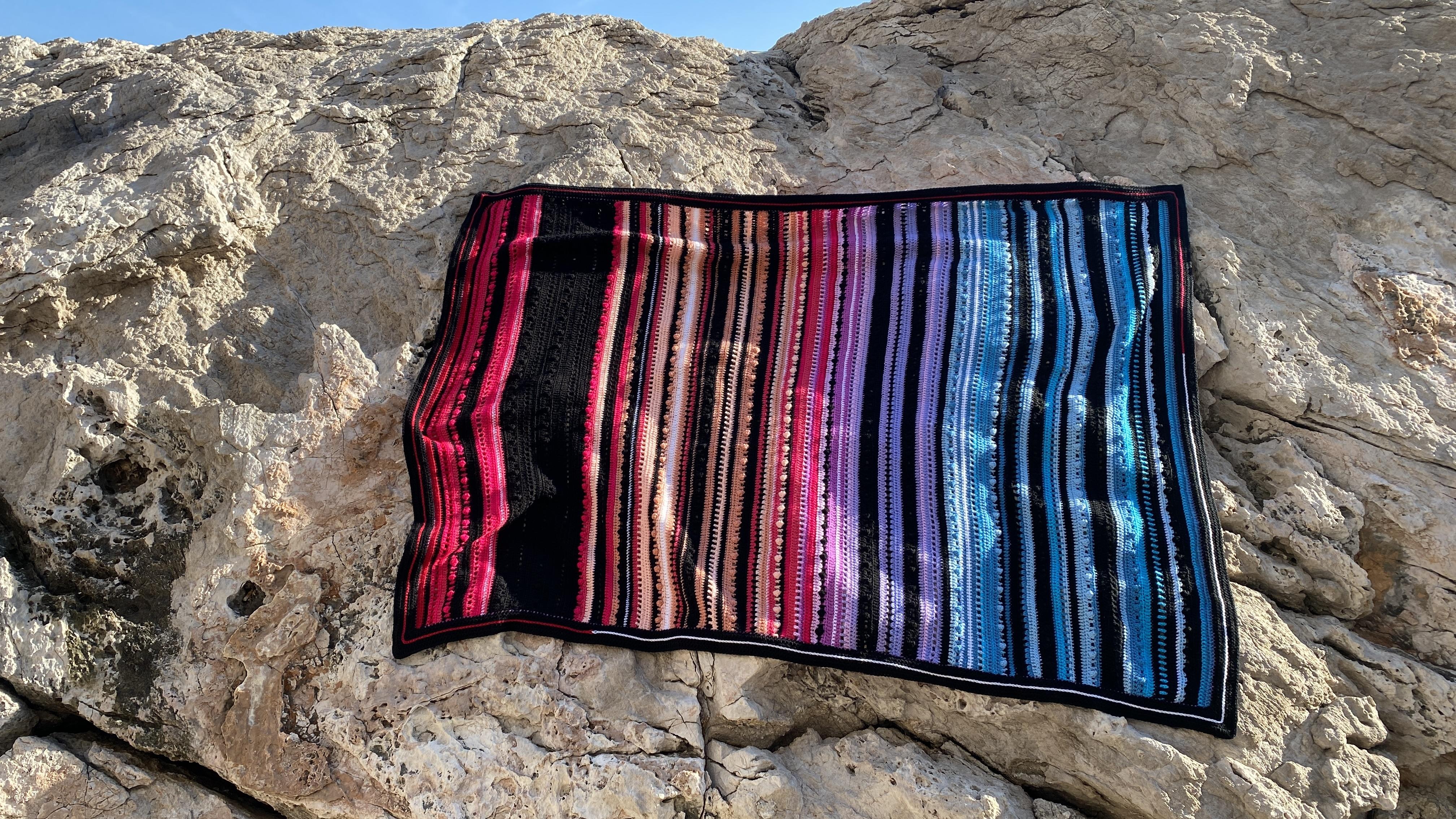 (There are videos on YouTube on it if you don't subscribe to Netflix). Finally after a visit to Dubrovnik all the pieces of the puzzle came together and I sat myself down and decided which screenshot of the intro would become my personal Tudum blanket. Keeping the stitches simple but letting the colours speak for themselves has turned this blanket into a stunning one! And here it is! I hope you like the concept!
Don't forget to watch the video tutorial here. This will, together with these written instructions help you to crochet this Tudum Blanket.


Needed
Yarn
I used 18 Balls of Stylecraft Special DK in the Netflix Tudum Blanket Pack
Hook
I use a 3.5 for DK, the yarn states a 4. Use the hook you usually use for DK.
Scissors
Stitch markers
Darning needle
Preparation
There is a lot of black, so ensure you have sufficient light when working with a dark colour.
Multiples
6 + 1
Measurements
Length 177 cm / 70 inch
Width 127 cm / 50 inch
Part 1
Method
Blanket body
Please note
CH1 doesn't count as a stitch it is merely your turning ch.
Check the colour table to see which colour you are using for which row and which stitch you are doing.
Row 0 SK, CH193
These are the possible rows you will have to do
DC
CH1, turn, 1DC in each st to end. (193)
HDC
CH1, turn, 1HDC in each st to end. (193)
SC
CH1, turn, 1SC in each st to end. (193)
BOXES
CH1, turn, 1DC in first st, *CH1, sk1, 1DC in next st*, repeat *-* to end. (96 boxes)
POPCORN
CH1, turn, *1DC in first st, CH1, sk1, 1DC in next st, CH1, sk1, 4DCPOP in next st, CH1, sk 1*, repeat *-* to end finishing in 1DC in the last st. (32 popcorns)
Tips
When changing colour, do it on the last pull through of the last stitch of the row before.
You will not be changing colour on each row, check your table!
When placing stitches onto a row with boxes, place one into the first st, then 2 DCs around each CHSP until the last box where you only place 1DC. You end the row with 1DC on the last st. (193) Make sure you have the correct sts again after completing this type of row.
The same applies when doing this after a Popcorn row. Ignore the popcorns and just use the boxes.
Key
American terminology
SK Slip Knot
CH Chain
CHSP ChainSpace
SS SlipStitch
SC Single Crochet
HDC Half Double Crochet
DC Double Crochet
4DCPOP Do 4DCs in the same st, take out your hook, insert it into the 1st DC created and put the loop back around your hook and pull it through the first DC.
(xx) number of stitches you should have
sk skip
st stitch
sts stitches
Here are the tables for the colours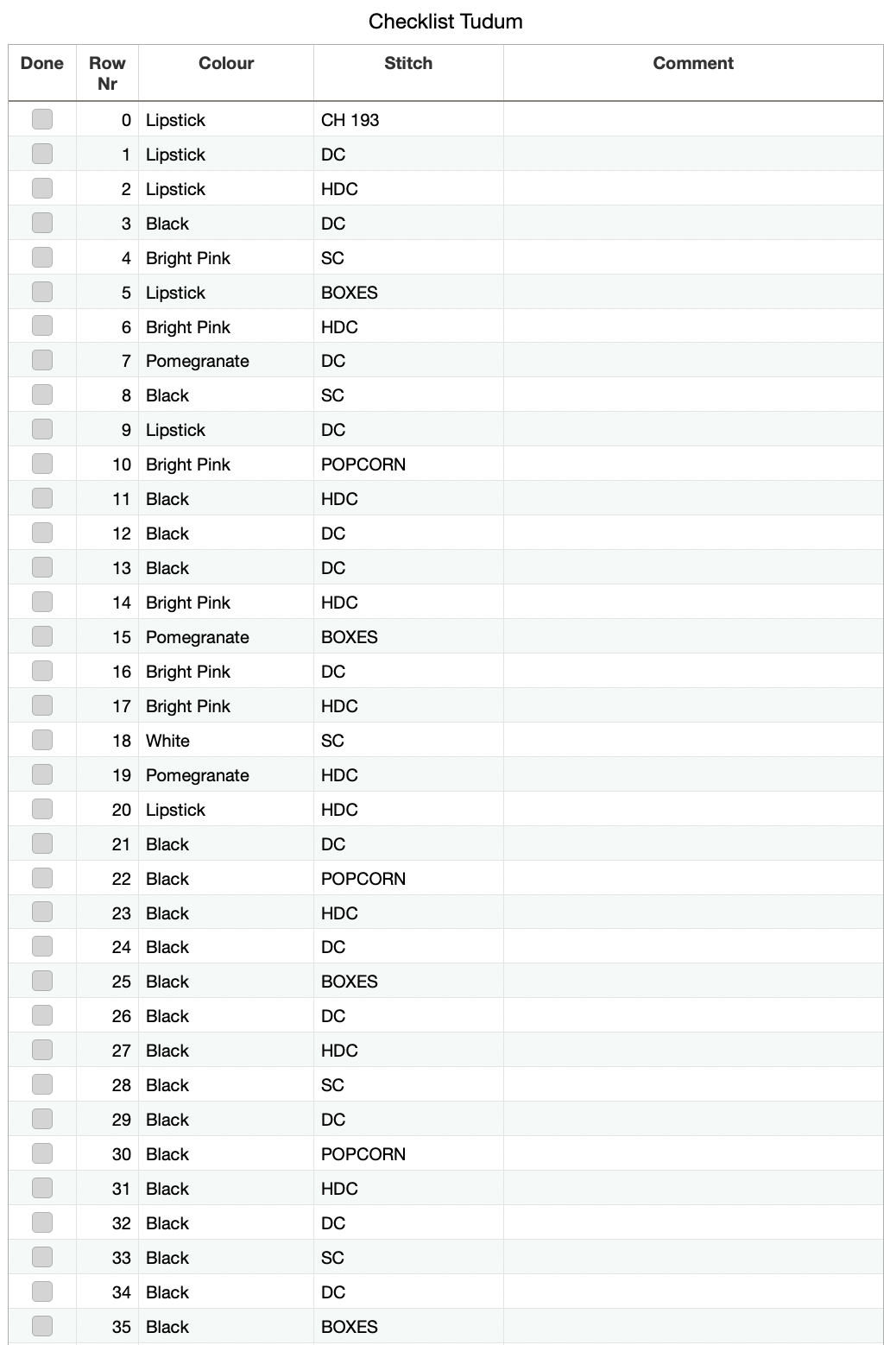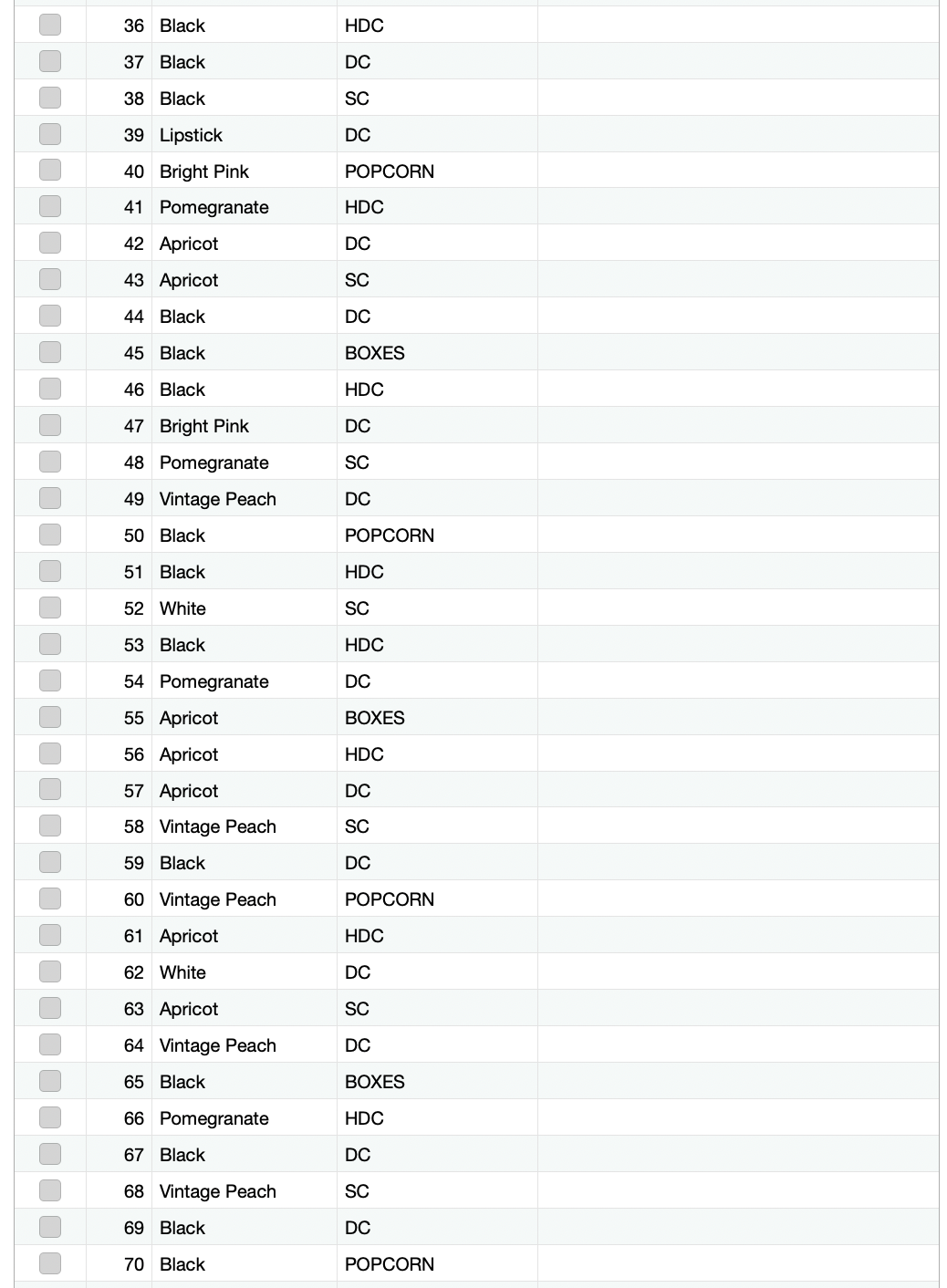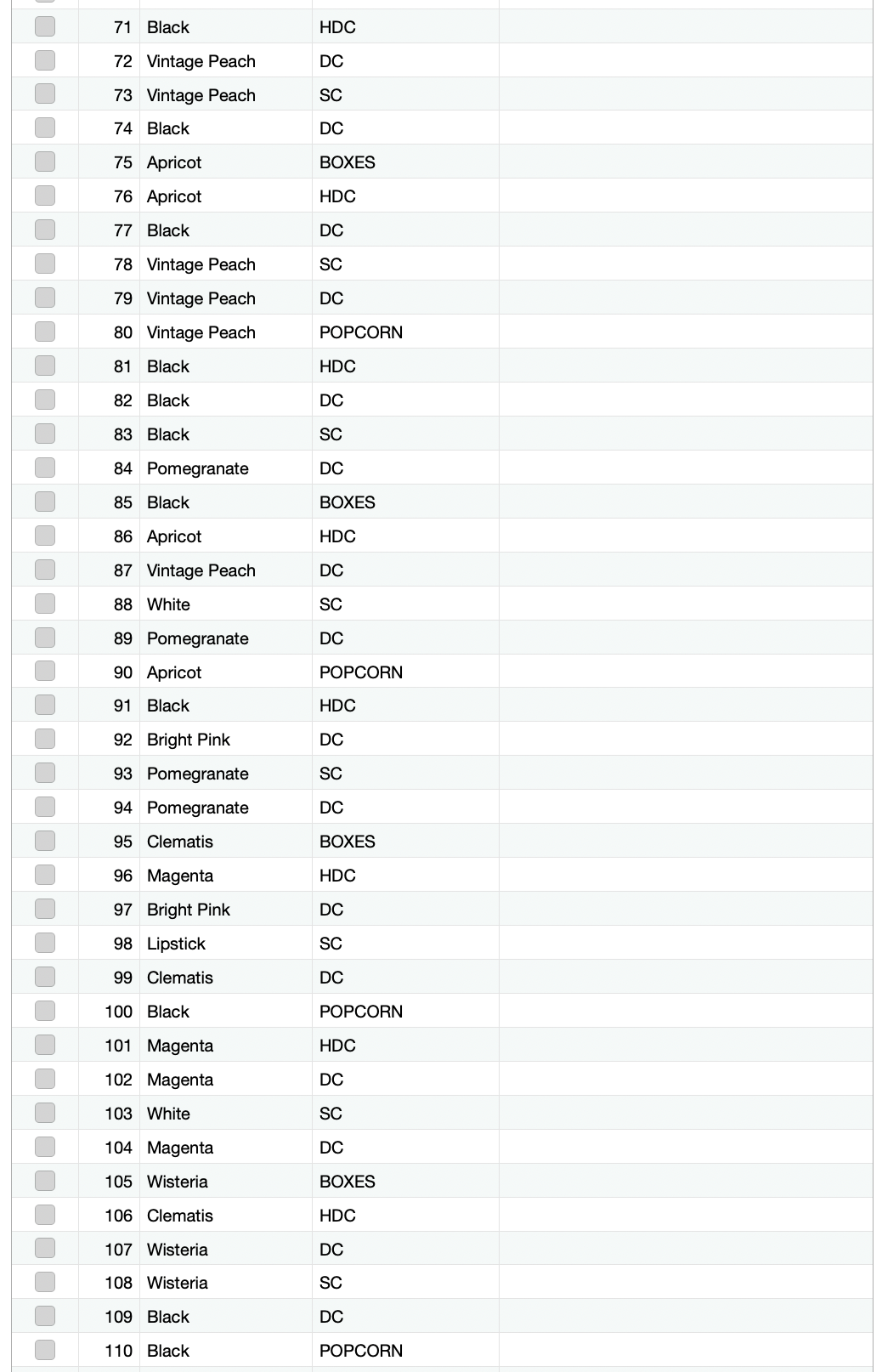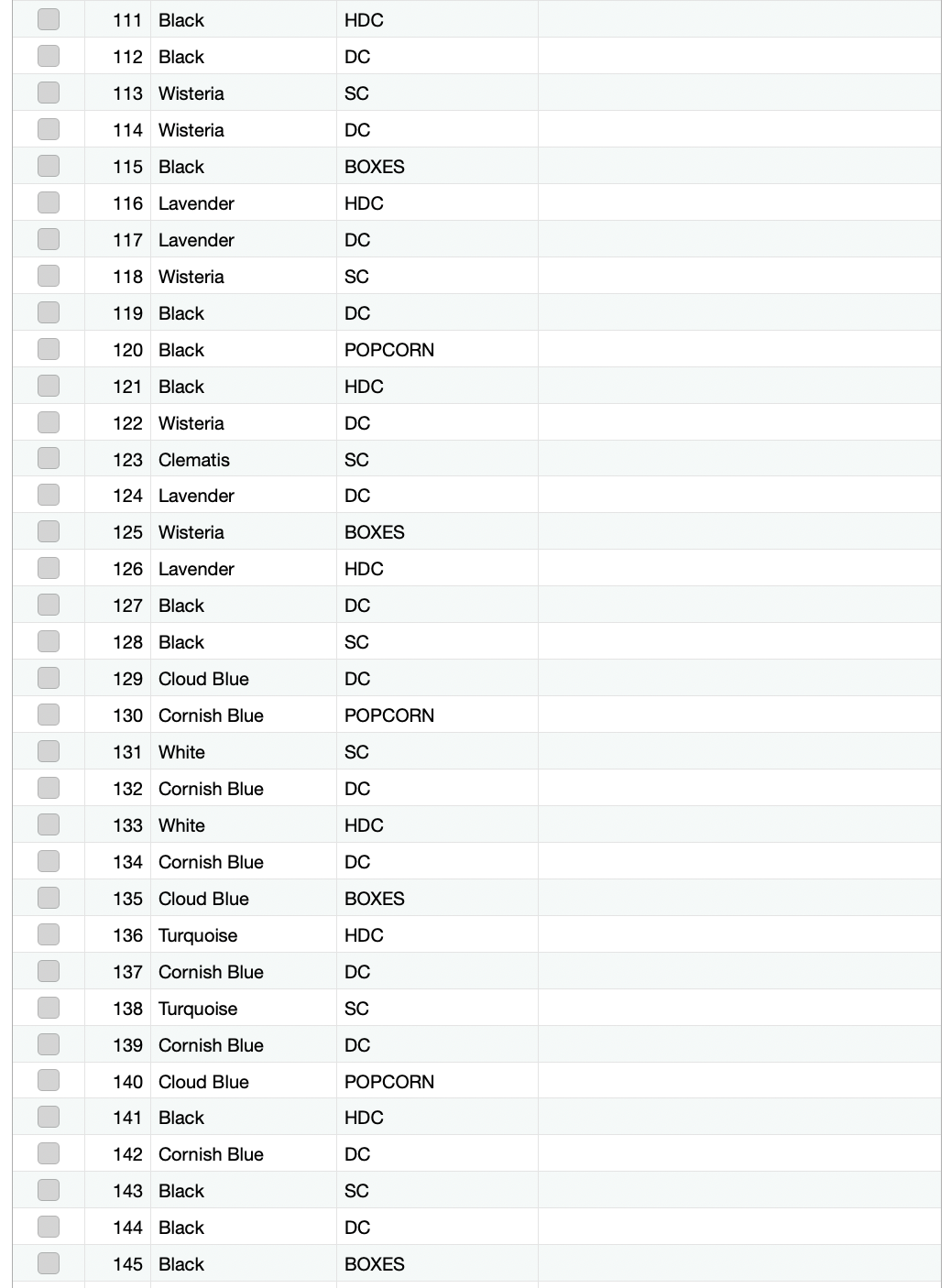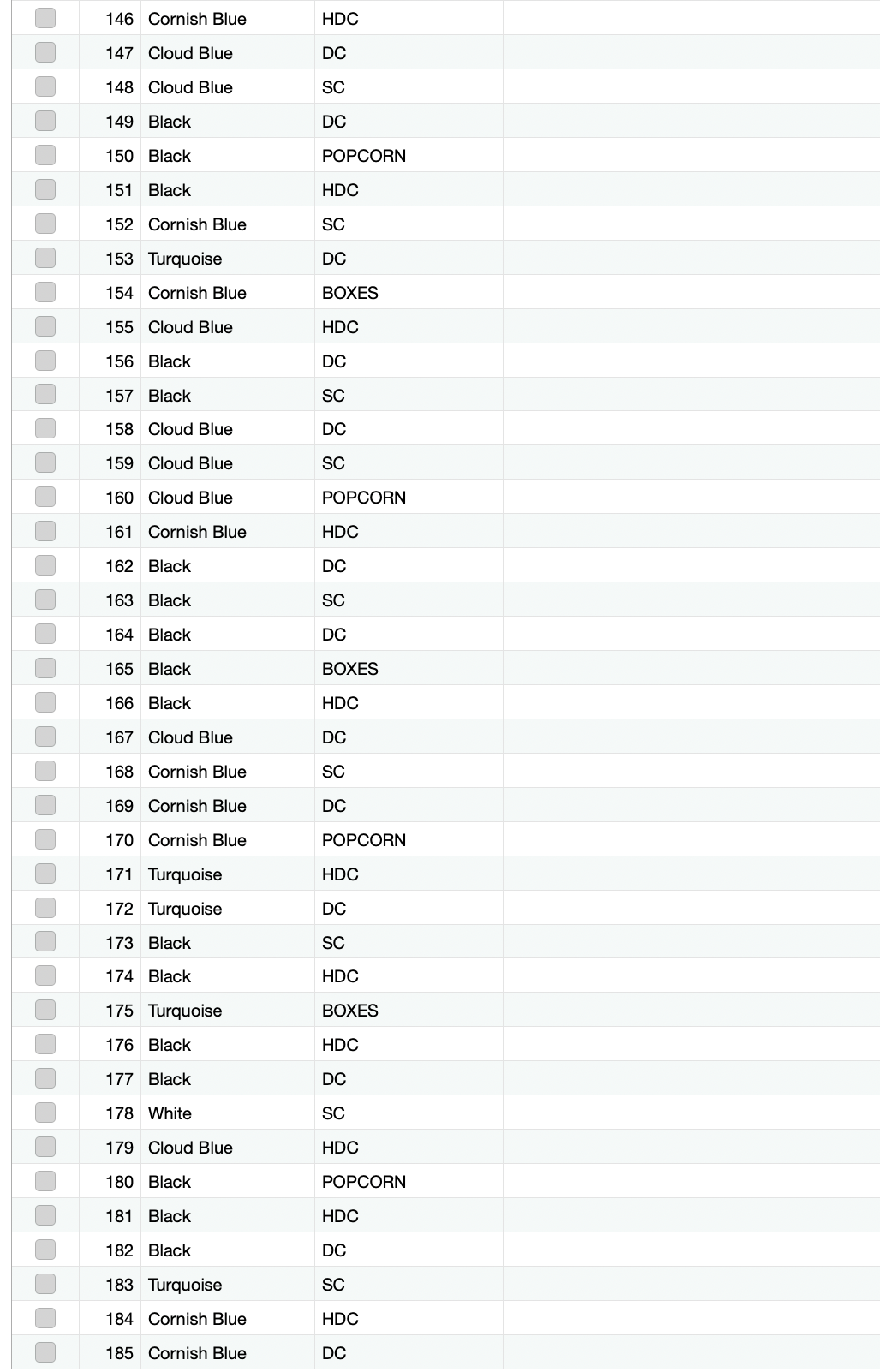 Happy Crocheting,
Anja x