NETFLIX INSPIRED INTRO BLANKET - TUDUM BLANKET PART 3
Netflix Tudum Blanket
Part 3
Cushion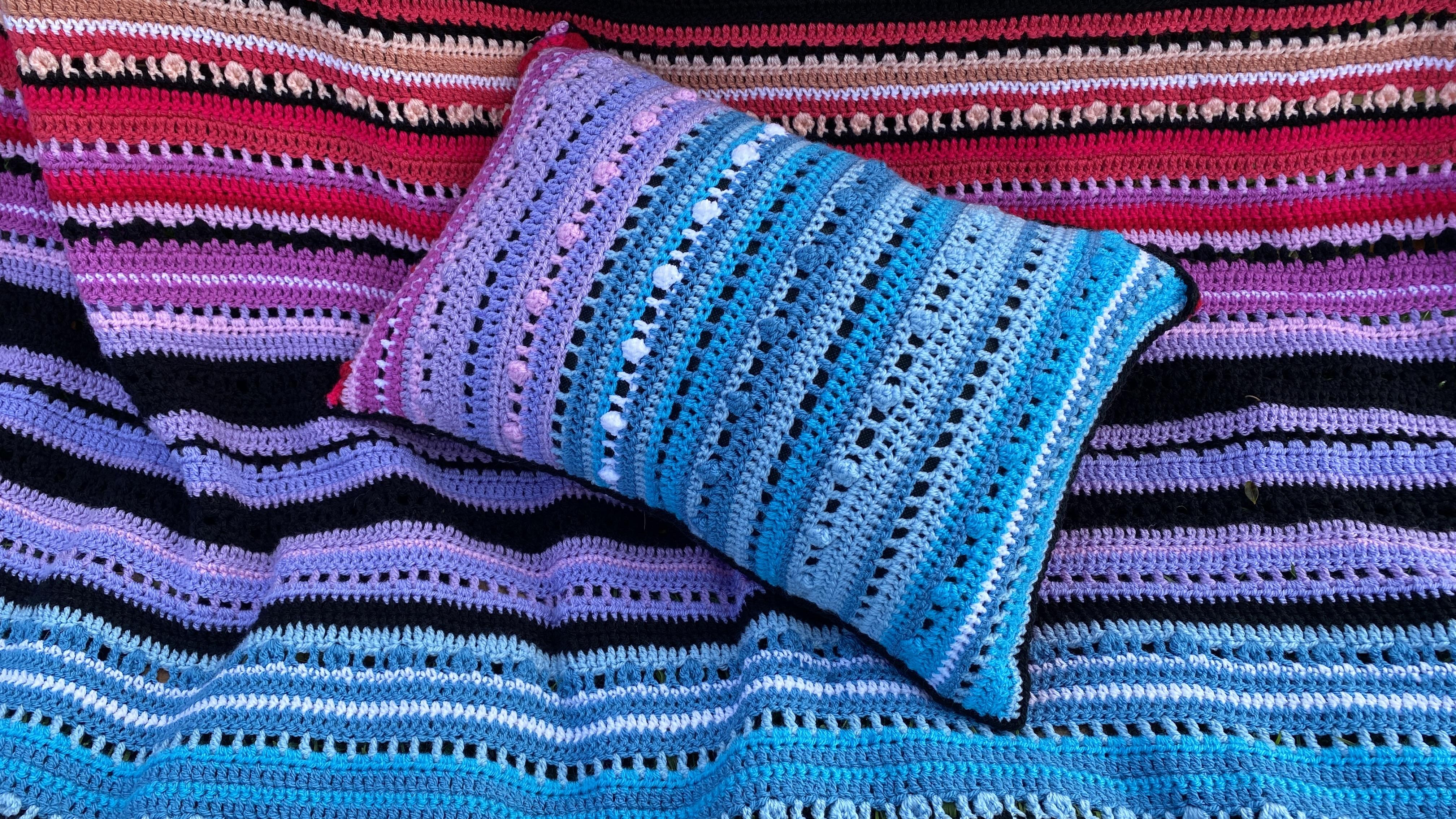 Needed
Yarn
I used leftover yarn from the Netflix Tudum Blanket Pack
Hook
I use a 3.5 for DK, the yarn states a 4. Use the hook you usually use for DK.
Scissors
Stitch markers
Darning needle
Cushion inner 40 x 60 cm
Multiples
6 + 1
Method
Cover
Please note
CH1 doesn't count as a stitch it is merely your turning ch.
Check the colour table to see which colour you are using for which row and which stitch you are doing.
Row 0 SK, CH49
These are the possible rows you will have to do
DC
CH1, turn, 1DC in each st to end. (49)
HDC
CH1, turn, 1HDC in each st to end. (49)
SC
CH1, turn, 1SC in each st to end. (49)
BOXES
CH1, turn, 1DC in first st, *CH1, sk1, 1DC in next st*, repeat *-* to end. (24 boxes)
POPCORN
CH1, turn, *1DC in first st, CH1, sk1, 1DC in next st, CH1, sk1, 4DCPOP in next st, CH1, sk 1*, repeat *-* to end finishing in 1DC in the last st. (8 popcorns)
Tips
When changing colour, do it on the last pull through of the last stitch of the row before.
You will not be changing colour on each row, check your table!
When placing stitches onto a row with boxes, place one into the first st, then 2 DCs around each CHSP until the last box where you only place 1DC. You end the row with 1DC on the last st. (49) Make sure you have the correct sts again after completing this type of row.
The same applies when doing this after a Popcorn row. Ignore the popcorns and just use the boxes.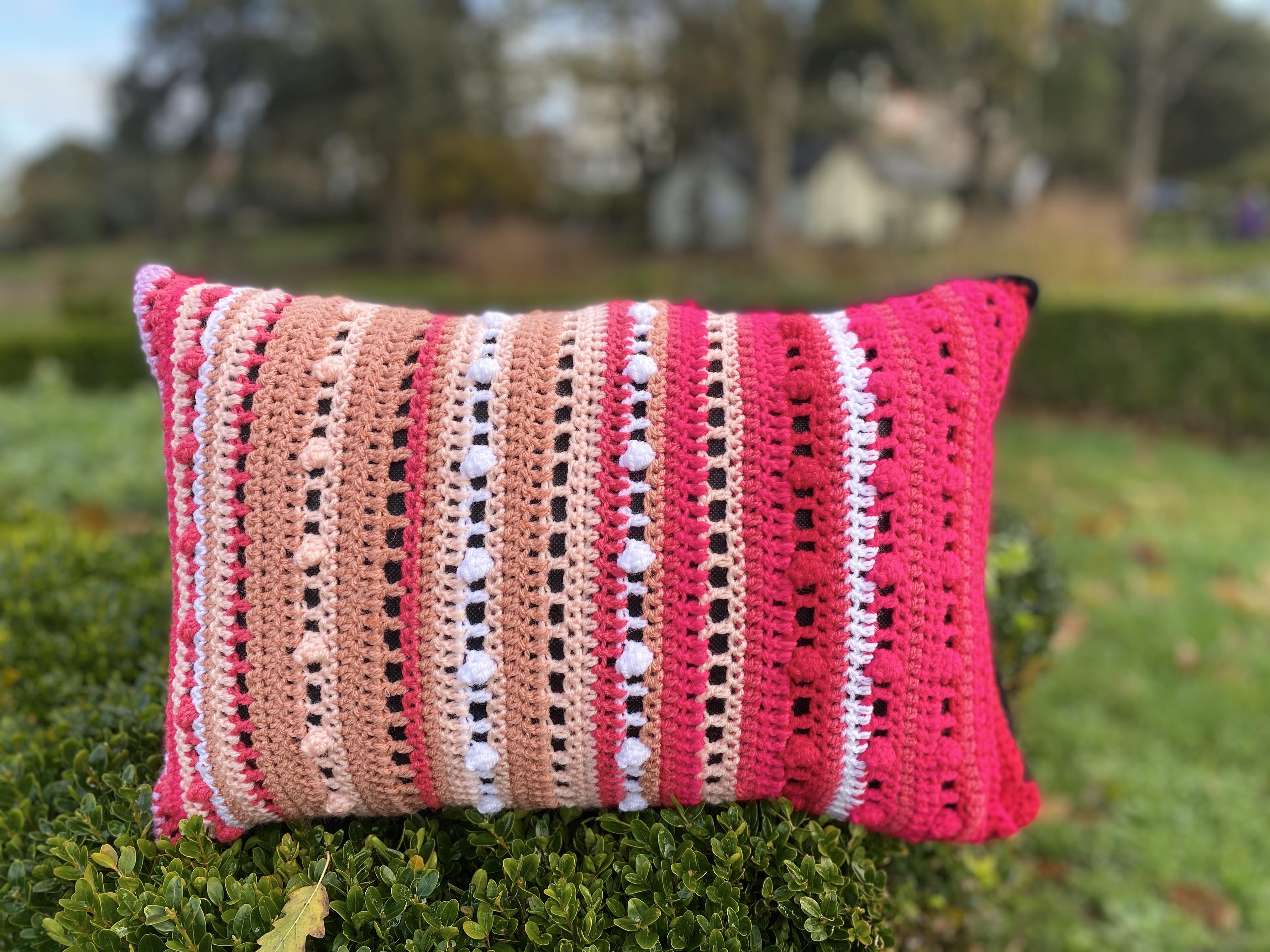 About the cushion inner
Generally cushion inners are white and I wanted the black to shine through, so I covered my cushion inner in black fabric before I covered it with the crochet cover.
Assembly of the cushion
You will see you have made a long rectangle, fold it in half so the two short sides meet and crochet the three sides together using Black and a SC. Insert the cushion inner before closing up the third side!
Key
American terminology
SK Slip Knot
CH Chain
CHSP ChainSpace
SS SlipStitch
SC Single Crochet
HDC Half Double Crochet
DC Double Crochet
4DCPOP Do 4DCs in the same st, take out your hook, insert it into the 1st DC created and put the loop back around your hook and pull it through the first DC.
(xx) number of stitches you should have
sk skip
st stitch
sts stitches
Here is the colour table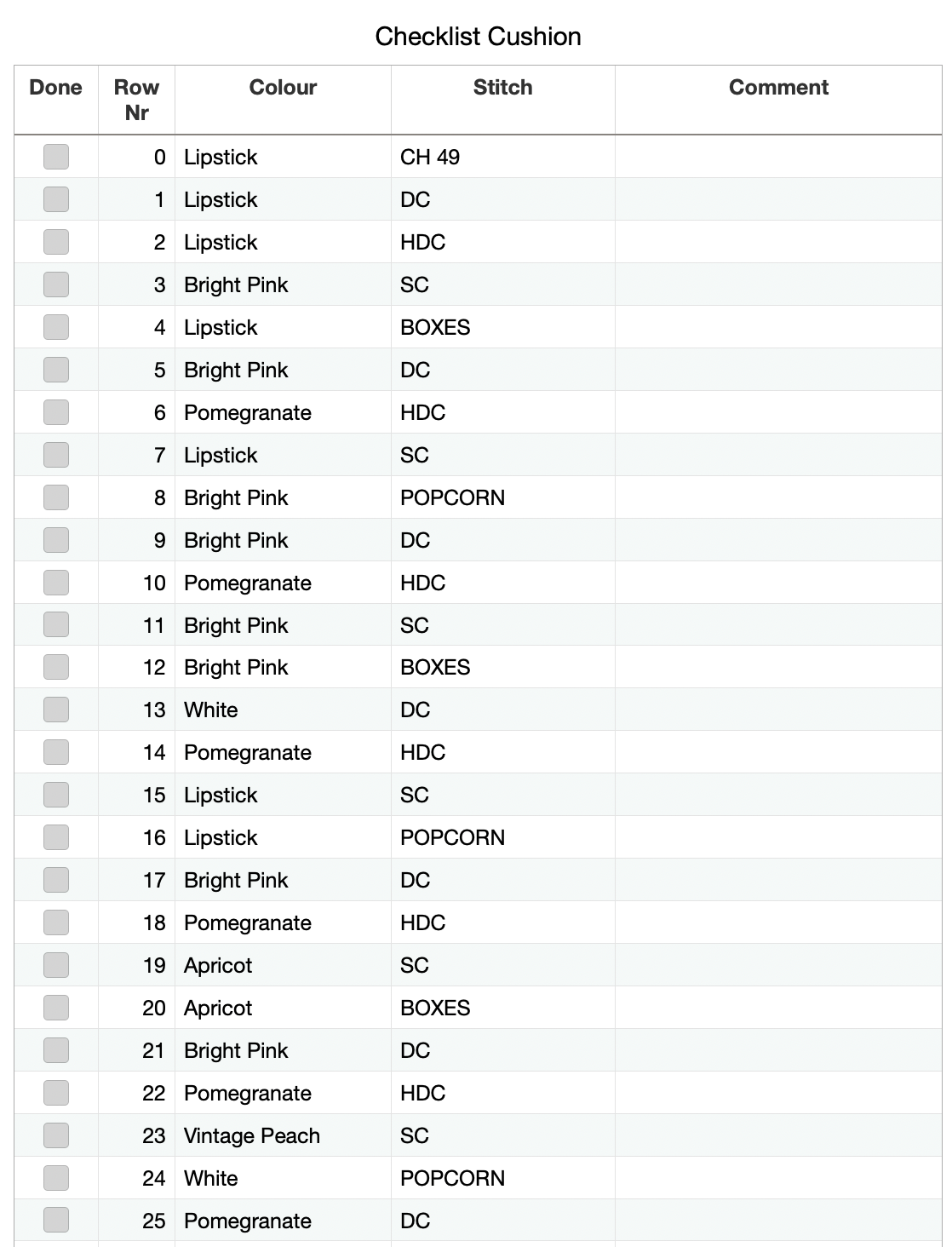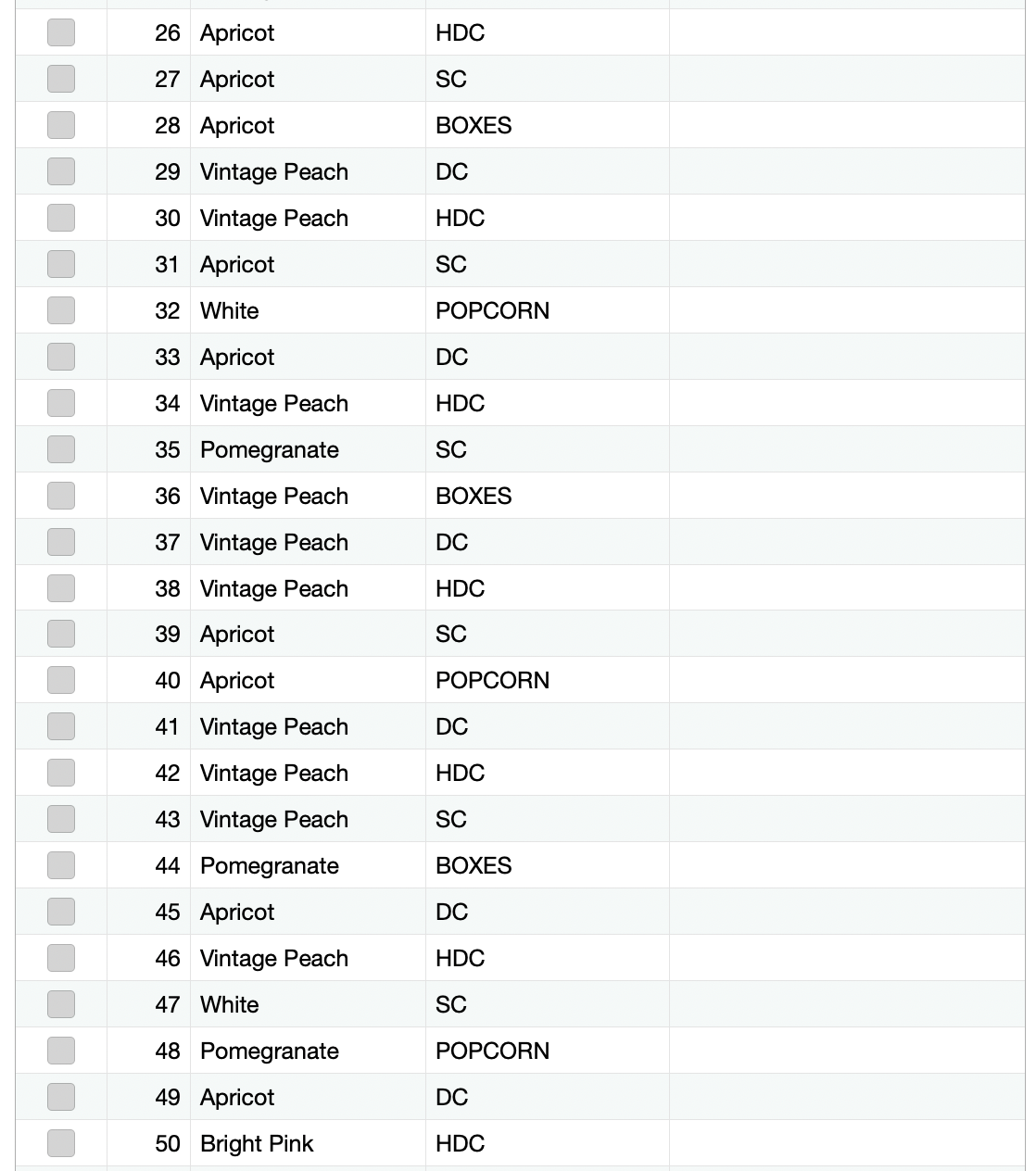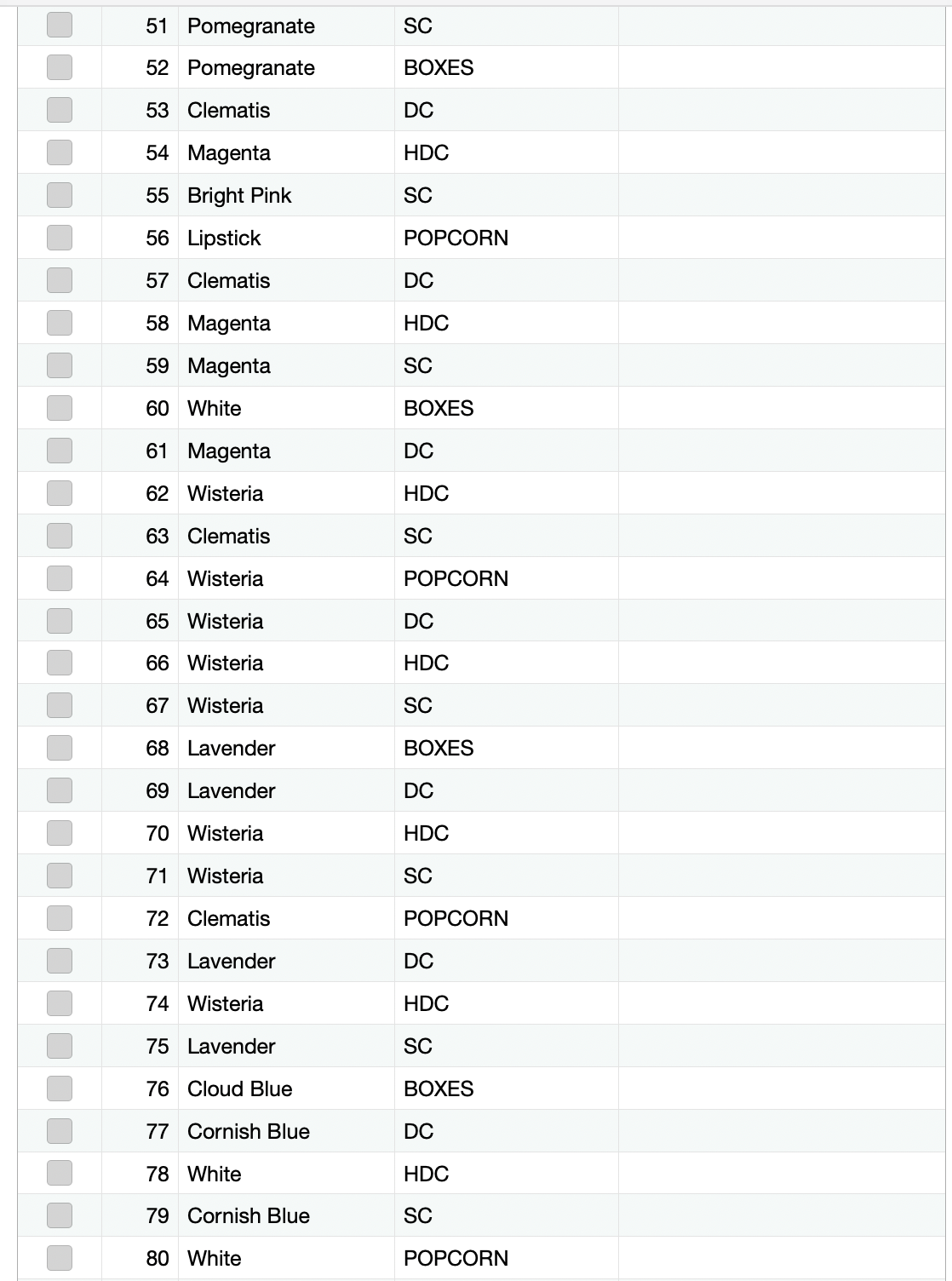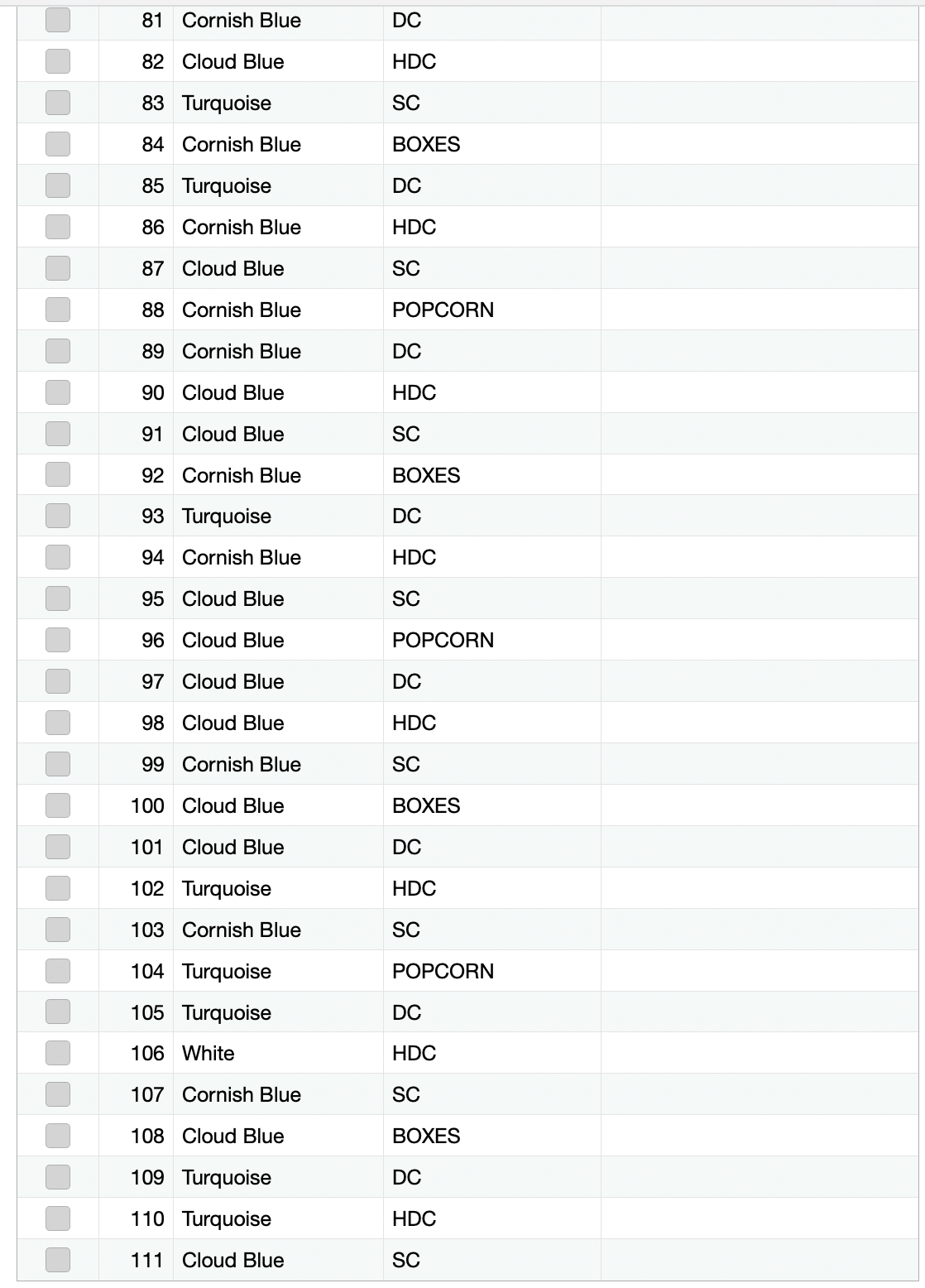 Happy Crocheting,
Anja x