JEWELS OF THE NILE CAL 2023 YARN PACK
OPHELIA TALKS CROCHET
JEWELS OF THE NILE CAL 2023 YARN PACK
Are you ready for an adventure that combines the beauty of crochet with the wonders...
Sorry we're out of stock!
But we can let you know once the product is avaliable again, just enter your name and email below.
Tell a friend
Complete the form below and we'll send details of this product to your friend
Are you ready for an adventure that combines the beauty of crochet with the wonders of ancient Egypt?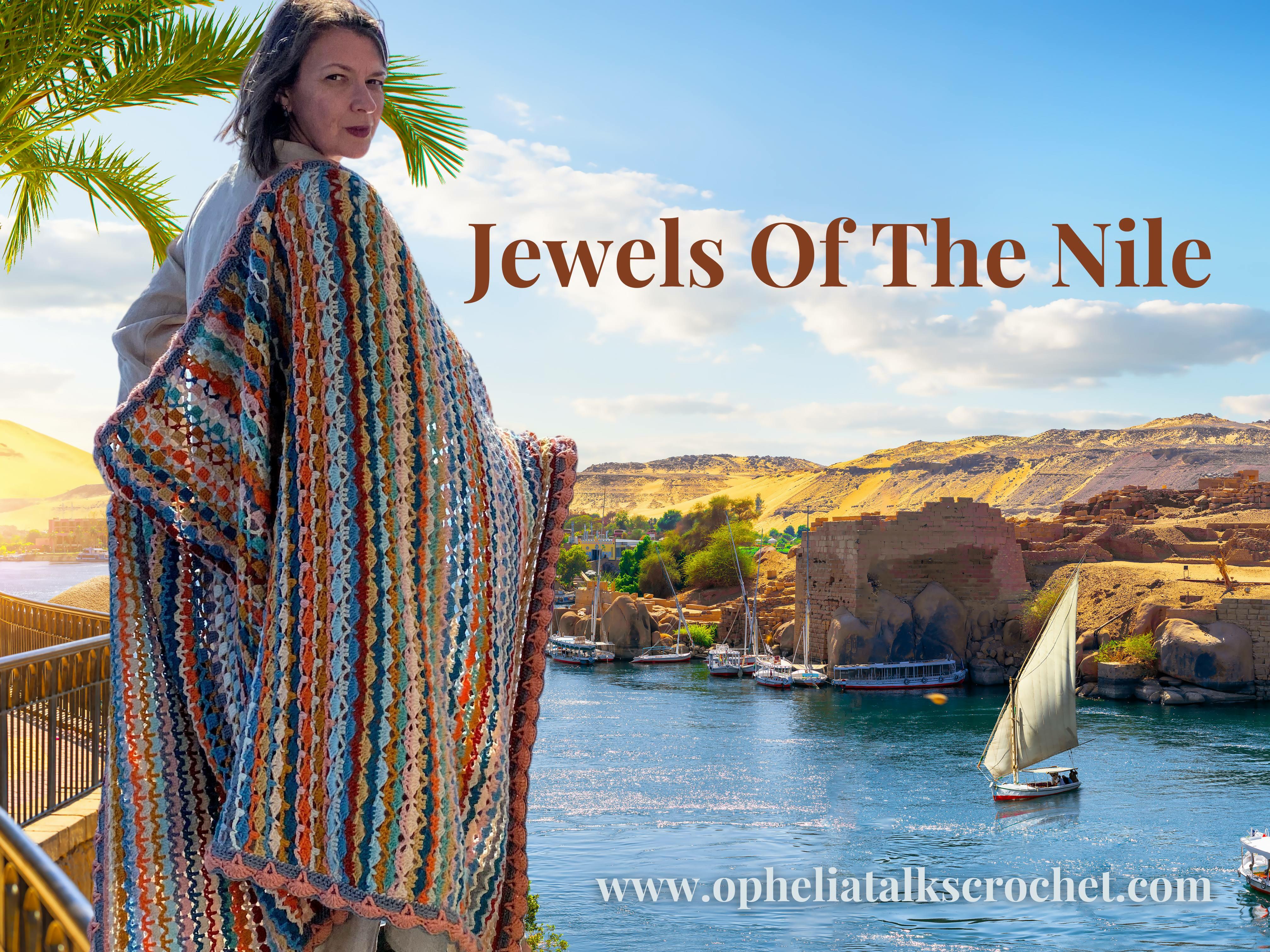 Why wait? Join the Jewels of the Nile crochet-a-long today and discover the magic of ancient Egypt through the art of crochet! With our expert guidance and support, you'll be able to create a stunning piece that will be treasured for years to come, while also learning about one of the world's most captivating civilisations. 
Don't miss out on this incredible opportunity to travel through time and create a beautiful blanket - get the Jewels of the Nile crochet-a-long yarn pack today!
What's in the pack
15 balls of Wendy Supreme DK 
Collectable card with QR-code to find tutorials on your fingertips.
Sturdy organza bag for storing the yarn or finished project



About Wendy Supreme Dk
The new Wendy Supreme DK truly lives up to its name and begs to be added to your yarn stash. It's a yarn unrivalled in many ways for all knitting and crochet enthusiasts.
In the productions process no cost is spared and only the best acrylic fibres are used to create this fabulous DK yarn, making it a joy to use, stitch after stitch.
Being 100% premium acrylic means you can use  Wendy Supreme DK for just about anything.
What's more to like is that this yarn is available in a stunning range of eye-catching colours and it is safe to put your creations in both the washing machine and the tumble dryer.
Don't take our word for it but you will find yourself returning to this yarn time and again.
Yarn weight: 100g/ball
Length/ball: 295 meters - 322 Yds
Blend: 100% Acrylic
Hook size: 3.5mm - 4mm hook (dependant on your tension)
Care instructions:
Washing: 40 degrees
Cool Iron
Do not bleach
Cool tumble dry
May dry-clean
I cant wait to do this one
What a gorgeous project this is to do the colours are lovely together . I'm so pleased with my completed blanket. Thankyou
First yarn pack buy the Wendy yarn is so so soft! The colours of this pack are so well put together so vibrant! Anja's design is stunning! Especially love the enclosed border genius as I hate doing ends! Get loads of compliments! Will be buying more very good value for money as well!
I enjoyed crocheting Jewels of the Nile in this Wendy Supreme yarn. It's the first time I've used this yarn and was pleasantly surprised. The colours are lovely and crochets beautifully.
Wendy yarn is really lovely to crochet with and its a great price too. Delivered quickly and well packed.
Loving this o e has much as any others I have made
The yarn is soft and squishy. Will be starting Jewel of the Nile Blanket soon. Beautiful colors!
Fairly new to crochet-but loving this project & the colours are so pretty. Arrived in a lovely bag too.
Lovely yarn to work with and the colours are really vibrant. I enjoyed making the Jewels of the Nile blanket. At times it was a little bit challenging but it is always exciting to learn something new! Delivery was fast and the yarn pack was well wrapped. Highly recommend!
Absolutely loved this pattern and yarn .. I had a tricky start but followed Anja's advice and it turned out beautiful x
I really fell in love with the wendy yarn and this blanket. It's so cuddly and in the moment it is really my favourite blanket (of about 18 :)... maybe more :) ) It was a pleasure to take part at the CAL, just sitting , not to think about the next step and enjoying. Also the colours are very beautiful an fine
I couldn't wait to get this yarn pack to make my special Jewels!! Delivery from UK to Oregon , USA is surprisingly fast!! Thanks Dirk for taking extra precautions when shipping, arrived perfectly intact!!
Really pleased with this purchase. Beautiful colours and great yarn. Delivered quickly. Thank you.
This was brought for me for my birthday pressie , yet to start using, But I have used Wendy yarns many years ago, still going strong and is a beautiful yarn to eotk with
I enjoyed this yarn pack. I find the wendy yarn lovely to work with very soft and smooth and I love the depth of colour. I felt I was on my own journey throughout Egypt while watching the videos and crocheting along.
I bought this pack and was pleasantly surprised how soft Wendy Supreme is. It crochets up beautifully and I shall be using this yarn again. The service was excellent, delivery extremely speedy and very well packaged.
It's a delight to use, plus it's not expensive.
Leave a review