HARLEQUIN CROCHET-A-LONG 2022 YARN PACK
OPHELIA TALKS CROCHET
HARLEQUIN CROCHET-A-LONG 2022 YARN PACK
This is the complete yarn pack to create the Harlequin crochet-a-long 2022. This time we...
Sorry we're out of stock!
But we can let you know once the product is avaliable again, just enter your name and email below.
Tell a friend
Complete the form below and we'll send details of this product to your friend
This is the complete yarn pack to create the Harlequin crochet-a-long 2022. This time we are crocheting a smaller blanket and a matching cushion cover. We love the intricate diamonds of the pattern!
As usual, the yarn pack consists out of 15 balls of StyleCraft Special DK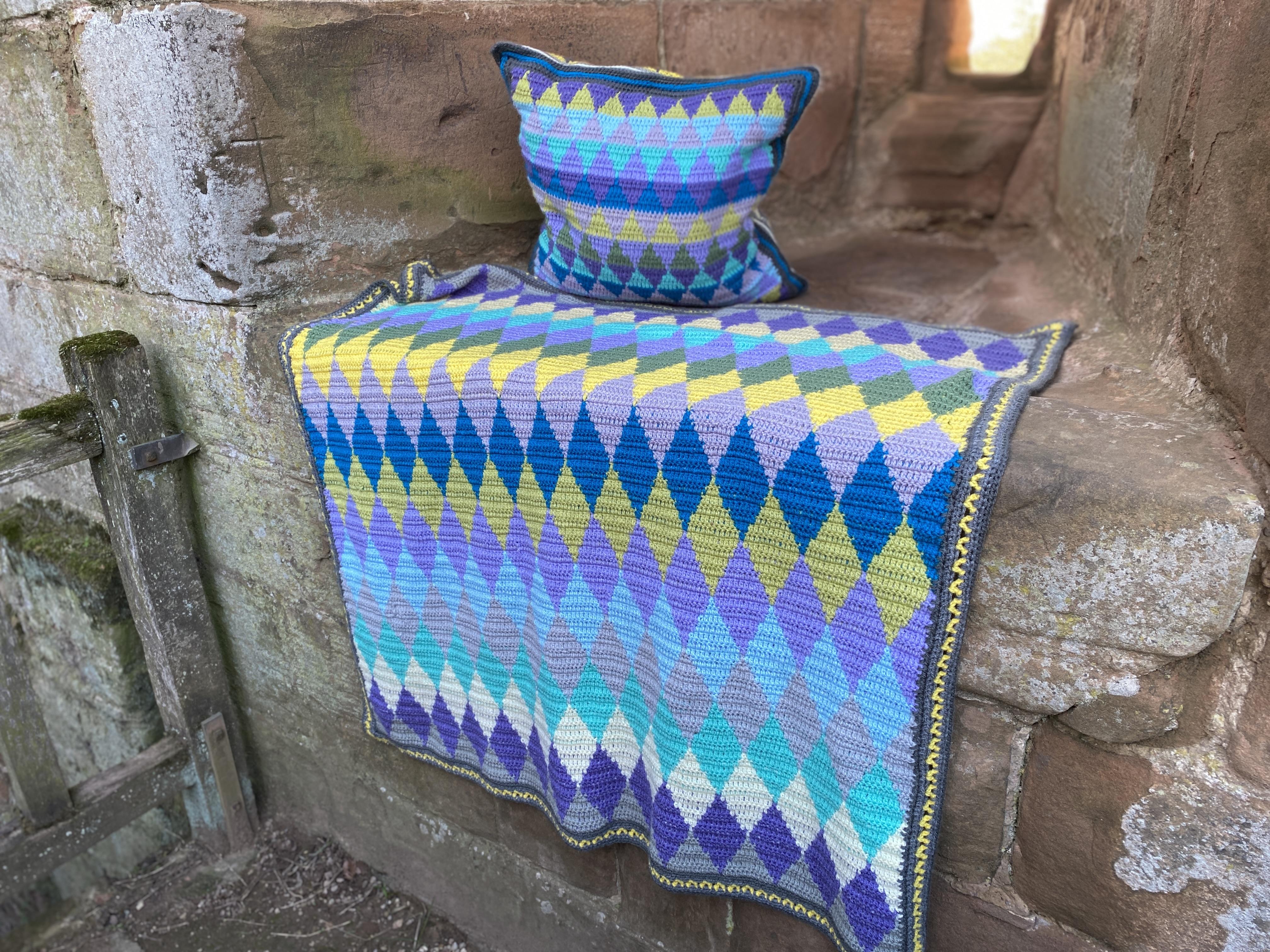 The Harlequin blanket and Cushion 
About Stylecraft SpecialDK
The Stylecraft Special DK yarn is a versatile DK (double knit) weight yarn at an economical price. This makes that the Stylecraft Special DK yarn is one of the most popular 100% acrylic double knit yarns on the market today. 
Compared to other 100% acrylic DK Yarns, you will find that the Stylecraft Special DK yarn is much softer and less scratchy.
This high-quality acrylic yarn is ideal for crocheting hats, scarfs, cardigans, afghans, ponchos, blankets and so much more. We are sure that this yarn won't disappoint you.
Yarn weight: 100g/ball
Length/ball: 295 meters
Blend: 100% Acrylic
Hook size: 3.5mm - 4mm hook (dependant on your tension)
Care instructions:
Washing: 30 degrees
Do not bleach
Low-temperature tumble drying and ironing
Such a wonderful yarn pack, the colours are beautiful and the yarn so soft, I highly recommended this pack. I have never had the confidence to attempt such a blanket Anja but your tutorial made it so easy for a novice who only could do basic single crochet stitches. Thank you Anja and Dirk
I loved this blanket & pillow! Easy pattern.
Still gave it a 5 rating even though I had trouble with this pack but I did finally got it vompleted
I loved making this CAL and the blanket and cushions turned out really lovely. Anja has such an amazing talent for combining colours. I would never have imagined that these colours would marry together so well and I don't think I would be able to choose such beautiful colours myself. That's why I totally recommend Anja's yarn packs. They are excellent value for money. Packing and delivery is always of the highest standard. Huge thumbs up to Anja and Dirk! xx
I have nothing bad to say about this yarn. It is very soft and easy to work with. I made the Harlequin CAL and I was very pleased with the results.
I bought this yarn pack for the Harlequin CAL and wasn't disappointed! It arrived quickly and was expertly packaged. The yarn is lovely to work with and feels good quality. I loved all the colours which work really well together.
I loved this cal. I gifted the blanket to a work colleague as a baby blanket and her little girl is now using it as a comfort blanket. She absolutely loves it. I kept the cushion for myself and it looks lovely in our living room. This was a joy to make and a new technique learned. Lovely clear instructions in the cal videos.
I used the pack for a pattern from attic24. The yarn is amazing to work with and the colour combination is great. My blanket ended up beautifully .
I absolutely loved doing this blanket .. as did my grandson who claimed it .The colours are so bright and cheerful and the yarn was a joy to work with. Would definitely recommend this pack .
I ordered this pack, it arrived promptly, here in New Zealand) and beautifully packed. I made a beautiful blanket with it. The quality of the yarn is excellent and I highly recommend.
This pack was such a lovely combination of colors. I enjoyed every minute of making the Harlequin CAL & gifted the blanket to a sweet newborn boy. Thank you, Anja & Kirk.
Leave a review